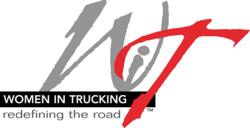 PLOVER, WI (PRWEB) April 24, 2012
Women In Trucking Association, Inc. was formed in March of 2007 during its inaugural board meeting at the Truckload Carriers Conference in Las Vegas.
A group of twelve women comprised the original board, which has now expanded to include both men and women representing different sectors of the industry. The association was formed to encourage women to look at careers in the trucking industry and to support those who work within the industry.
"We represent the women who design and build the trucks, sell the trucks, fix the trucks, dispatch the trucks and own the trucks, as well as those who drive them," said Founder and President/CEO, Ellen Voie. "We are especially pleased to have many men who become members to support our efforts," Voie added.
Mark Rousseau, Vice Chairman of the board and the first male director said, "Frito-Lay, North America congratulates Women in Trucking on their five year anniversary and we are proud of being the first Gold Partner of the organization. Over the first five years we have seen the positive impact of WIT related to recognizing the women in the Industry, and in creating awareness of the need to improve diversity and inclusion in trucking. We are looking forward to continuing our support of WIT as the organization moves into being the key resource for individuals, companies, and the government in supporting women in trucking related jobs."
Some of the accomplishments of the group include the annual "Salute to the Women Behind the Wheel," to honor professional female drivers, the "Influential Woman in Trucking Award," the anti-harassment employment guide and the formation of a Scholarship Foundation. The group is nearing 2,000 members, which include both individuals and corporations and plans to hold a birthday celebration at the Great American Trucking Show in August.
Women In Trucking was established to encourage the employment of women in the trucking industry, promote their accomplishments and minimize obstacles faced by women working in the trucking industry. Membership is not limited to women, as sixteen percent of its members are men who support the mission. Women In Trucking is supported by its members and the generous support of Gold Level Partners; Bendix, Daimler Truck NA, Frito-Lay North America , Great Dane Trailers, Hyundai Translead and Walmart. For more information visit http://www.WomenInTrucking.org or call 888-464-9482.