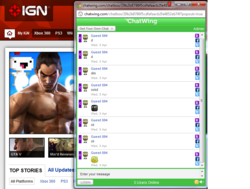 Seattle, WA (PRWEB) April 22, 2012
Browser-based games or BBGs take a large portion of the Internet. This is because of the fact that many players are looking for different ways to have fun. BBGs are famous because there is no need to download heavy files and game clients. A browser-based game is also jam-packed with players from different parts of the world. Avid gamers can now take advantage of a free chat widget known as Chatwing. This application serves as another medium of communication for BBG players.
Chatwing may appear normal for many people, especially those who are not familiar with online applications. Despite this, Chatwing has a stable ranking compared to other applications. This proves that simplicity is everything. Even though Chatwing may appear simple, it is really a powerful shoutbox which has the capability to connect to anyone simultaneously. Chatwing's developers were wise enough to maintain the speed of connection while delivering speedy instant messaging for everyone. Plus, people can use emoticons and avatar displays to spice up any conversation.
One of the best things about Chatwing is Facebook integration. Through that feature, users can log in using their Facebook accounts. This makes information exchange easy. This is why some BBG bloggers have installed Chatwing. Through the chat box, they can share tips, game updates, guild or faction invitations, and even mercantile posts. It has also been noted that BBG blogs with Chatwing installed have high rates of activity. Highly-active blogs have good rankings, and are truly search engine-friendly.
Using Chatwing does not take much of the user's time. First, the user must register his blog or website's domain name. After that, he can now proceed to customization. He can edit the height and width by adjusting two sliders. For the color, he can mix and match hues. The widget can also be renamed to match the theme of the blog. After everything has been completed, Chatwing will generate the HTML code needed for embedding.
Chatwing is continually attracting new members because of its simplicity and high connection rate. Adding to that, many people are already seeing the importance of website chat.
About Chatwing
Chatwing.com has developed live chat software for websites and blogs. The Chatwing.com website offers users the ability to signup and create a customizable live chat feature in 1 minute or less. Users have the ability to customize the size, color, and fonts of the chat product. The ability to chat via social media accounts such as Facebook and Twitter enable Chatwing to offer a personal and unique real-time experience to all sites. Chatwing is 100% free web software.