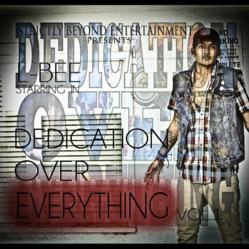 Miami, FL (PRWEB) April 22, 2012
Hip hop artist L-Bee recently released his mixtape "Dedication Over Everything." Presented by Coast 2 Coast Mixtapes and Strictly Beyond Entertainment, it is now available for free download. "Dedication Over Everything" features L-Bee on tracks with guest artist appearances from Edub, Moochie Kodak, Huiel, Johnny Cash, AP, Da Enforcer, and Evan Blake.
Lamar "L-Bee" Bridges is creating his future in music that people can feel. Born in New York and raised in Atlanta, GA his southern hospitality and city boy swagger make him anything but ordinary. He grew up heavily involved in sports, earning national accolades during high school for his achievements in basketball, baseball, and football. Graduating with a 4.0 GPA, he earned a full scholarship at Alabama A&M where he played baseball. This hip hop lyricist, song writer, and producer combines the same type of dedication, hard work, and talent he uses in sports to make a lane for himself in the most competitive music genre.
Growing up in a single parent household with his mother, Lamar learned to have a sincere appreciation for women; still he admires his New York native father for always being a role model and best friend despite the odds. Both parents have impacted him to be accomplished as a scholar athlete. His father, Kevin "K-bee" Bridges, a super talented and known contemporary inspirational music artist, producer, and writer, is his role model. He made his first debut in his father's music video "Transformation" as the lyricist. Needless to say, L-Bee has music running through his veins. He commands his audience's attention, and is known to bless tracks with melodic catchy hooks that bring to mind greats like Drake, Nelly, and the conscience flows of Common. His whole purpose in this game is to make men and women "feel" the music he creates.
"Dedication Over Everything" is available for free streaming and download at http://coast2coastmixtapes.com/mixtapes/mixtapedetail.aspx/l-bee-dedication-over-everything