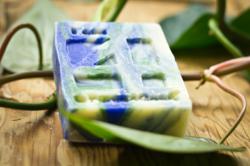 Is this really for one's body?
Stamford, CT (PRWEB) April 29, 2012
Spring is in the air. Let your sense of smell run wild. Orange Swirl, Cucumber Mellon, Pomegranate Mango, and so much more.
Creating a huge social impact.
I am a Force4Good, plans to exhibit deliciously at the Fairfield Women's Expo with a brand new line up of feel good, be good, social enterprise artesian body enhancing products to rejuvenate one's cells.
Lather Boston Crème Pie on your fingertips or relax your muscles with Peppermint Spice.
"It's hard to believe its Body Butter and Soap. It's like I am in a Dessert Spa and everything is naturally made with organic ingredients," Susan shares as she packs the earth friendly kits for the show.
I am a Force4Good's trademark brand Organic Self, is expanding into tasteful treats. Cold process soap and body butter all made with the most natural essential oils. The line up will be displayed in Stamford for all guests to smell and feel.
This little company, with huge heart, started by women with the drive to see all succeed is doing good things. What makes I am a Force4Good, special besides their deliciously enticing body butters? They stand for advancement of women, providing means for dignity, education, safe living conditions and leadership. Each product is touched by a women-gaining independence.
Feel Good, Be Good, and Share the story of Strength and Dignity.
Free your senses and embrace the opportunity to feel beautiful while touching another's life.
Spread the scent of love with fresh blueberries into the spring air this Sunday.