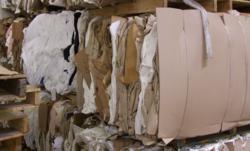 ...it has proven to be not just an added value to ourselves, but affords our clients the opportunity to be mindful of their waste.
Elgin, IL (PRWEB) April 23, 2012
Fabric Images, Inc. announces the 10 anniversary of their Eco Stewardship initiative for textiles, paper and aluminum. This program, introduced in 2001, encompasses numerous aspects of their production and post-production processes. As part of this program all scrap materials from production runs, including aluminum, polyester fabrics and paper, are bundled and sent for recycling. Once recycled these materials are re-purposed into such products as:
Polyester fabric: Packaging, carpet fibers, plastic containers and toys.
Transfer press paper: This becomes paper pulp which is then turned into box board material, as used in cereal boxes, back covers of notebooks, paper shopping bags, calendars, books and posters.
Cardboard and Kraft paper: As with transfer paper, this too becomes paper pulp, which is turned into box board material.
Aluminum: Scrap aluminum is melted down. The alloys are then re-used in new aluminum and aluminum products.
Since the inception of the Eco Stewardship program, Fabric Images has donated an average of roughly 172,000 pounds of recyclable material per year. 2011 set their record with 203,289 pounds of materials for recycling. Broken down, this contributes to 17,935 pounds of fabric and 117,146 pounds of paper and 68,208 pounds of metal product for ONE year. According to Marco Alvarez, President & CEO of Fabric Images "we never would have imagined the significant amount of materials that we would be recycling to date. We started the program because we felt it was our duty to reduce our carbon foot print. We now see that it has proven to be not just an added value to ourselves, but affords our clients the opportunity to be mindful of their waste."
Fabric Images has expanded their Eco initiative by offering a recycling program to their clients. This allows used or old fabric architectural displays to be sent back to Fabric Images for recycling. This added benefit allows their clients to take part in the Eco initiative, which draws on conservation and sustainability, leaving a positive impact on the environment.
Along with recycling, Fabric Images has put in place many internal initiatives as part of the Eco Stewardship program. Some of these include:
The use of environmentally safe (low VOC) products) with in the print and powder coating departments.
Seeking out and utilizing the latest in recycled materials and practices.
Utilizing multiple shifts to balance power demands at off-peak hours.
Energy efficient products.
The offering of a "Green" fabric line.
As part of their Eco initiative, Fabric Images offers Freestyle Rental. This custom rental program cuts costs up to 40% by allowing rental on custom solutions for a 1 to 3 use application, regardless of complexity, size or project scope. The Freestyle program has an eco-friendly approach, with all materials, including frame and fabric, being recycled or reused in the Fabric Images recycling program. Freestyle Rental allows designers to focus on design without limiting the integrity of the space, application or idea. This solution gives the freedom of design temporary architecture and displays back to those who need it, in an Eco-friendly approach, without having to compromise the designer's vision for cost.