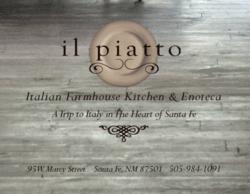 Santa Fe, NM (PRWEB) April 22, 2012
'Cooking Up A Book' is a half-day seminar being offered at SantaFe.com Featured Business il piatto Italian Farmhouse Kitchen and Enoteca, that presents an overview of today's shifting publishing world, defines the various new formats available to writers and provides hands-on exercises to help hone ideas into a publishable book. A hands-on session on recipe development and writing, as well as exercises to sharpen your skills in tweeting, blog posting and writing posts for Facebook and other social media platforms, as well as extensive Question & Answer periods are also included in the information-packed workshop.
The day culminates in a Cookbook Pitch-A-Thon in which attendees have the chance to "pitch" their book ideas to a panel of publishing experts for feedback aimed at turning a pitch into a publishable book proposal.
Of course there will be wine to stoke those creative wheels. To fuel the hike from dream book to reality, there will be food --- oh yes, there will be lots and lots of the irresistible nibbles cooked up from Chef Matt Yohalem's il piatto Italian Farmhouse Kitchen and Enoteca.
About il piatto:
il piatto Italian Farmhouse Kitchen and Enoteca is locally owned and operated. Located one block north of the historic downtown Santa Fe, New Mexico Plaza, the restaurant features an award-winning chef and is housed in a refurbished Italian farmhouse with wood flooring, brick and plaster wall, wine barrel enoteca, food bar, custom iron and glass wine cave and private dining facilities. Il Piatto prides itself on utilization of local products, housemade pastas and authentic regional Italian cuisine. "A Trip to Italy in the Heart of Santa Fe." Four Stars, Albuquerque Journal, Top 20, Esquire Magazine, "Hottest American Chefs", Bon Apetit.
About SantaFe.com:
SantaFe.com provides locals and visitors to Santa Fe alike the most current interactive platform for events, music, arts, business, dining and lifestyle. SantaFe.com is a division of Hutton Broadcasting, located at 2502 C. Camino Entrada, Santa Fe, NM 87507
Contact Information:
Scott Hutton
SantaFe.com / Hutton Broadcasting
http://www.santafe.com
(505) 471-1067 (Media inquiries only, please)