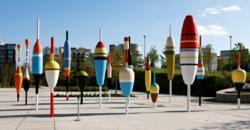 Toronto, ON (PRWEB) April 26, 2012
Health Connexions™ is proud to be a sponsor of this event...
Contemporary Art in Public Places
The ICC at the ROM invites you to an evening of contemporary art with City of Toronto Public Art Coordinator Jane Perdue, ScotiaBank Nuit Blanche curator Shirley Madill and Public Artist Lesia Mokrycke. Together these three speakers will discuss the importance of art in the public sphere and highlight the impact of the arts on Canadian culture.
Date: Thursday, May 10th, 2012
Time: 7:00pm – 9:00pm
Location: Royal Ontario Museum, ROM Theatre, Level 1B
Entrance: President's Choice School Entrance (insert map)
Cost: Public $30, FICC Members $25, Penn-Wharton Alumni $25 (includes one free glass of wine)
Sponsors: Co-presented by the Penn-Wharton Club of Toronto and the Institute for Contemporary Culture at the ROM
CLICK HERE TO REGISTER early as spaces fill quickly.
Panel Discussion
Toronto is one of the most vibrant cities in North America. How do we ensure it continues to grow?
The corridors, avenues and arcades of the city make up the shared space of urban living. Without the walls of a gallery or a museum, public art takes on meaning from its environment: the city and the people who frequent its streets. Public art occupies intermediary ground between architecture, landscape architecture, sculpture, painting, digital media and performance. For this reason, public artwork becomes part of the infrastructure of the city and can have a powerful impact on the way we use public space. For this panel, the speakers will look at the interplay between the permanent and the ephemeral in public art, as both have a lasting impact on the urban sector. Together Jane Perdue, Shirley Madill and Lesia Mokrycke highlight the arts as an important factor in the way people experience urban space. This talk outlines initiatives such as the Percent for Public Art Program, ScotiaBank Nuit Blanche and several public art projects, providing insight into why these initiatives are essential to Canadian cities as world-class cultural centers.
This talk presents artists, both national and international, who have contributed to the arts in Toronto. Join speakers Jane Perdue, Shirley Madill and Lesia Mokrycke to learn why art in the public sphere is important to the continued growth of our cities as international destinations for travel, intellectual discourse and cultural synergy.
Jane Perdue, Public Art Coordinator, City Planning, will provide an overview of the City of Toronto's Percent for Public Art Program. Working with urban design and community planning, the program identifies and secures art opportunities on both public and private lands. Local public art installations to be shown include works by Barbara Astman, Doug Coupland, Shayne Dark, Eldon Garnet, Jaako Pernu, Derek Root, Susan Schell, and James Turrell.
Shirley Madill, Curator of Zone B for ScotiaBank Nuit Blanche 2011, will address the relationship between social space, architecture and the city through the curatorial project The Future of the Present. Approaching public art from the perspective of the transient, Shirley will explore the role that temporary public art events can have in transforming the city. The City of Toronto has taken a global leadership role through the production of the annual ScotiaBank Nuit Blanche event. Her discussion will focus on the way intense and accessible engagement with art elevates the public's awareness of its significance in activating public social space.
Lesia Mokrycke, Public Artist, will discuss the process of creating work for the public realm and the impact public works can have on community spaces, both personal and civic. Lesia will discuss the relationship between permanent public art and transient artworks through several large-scale projects including Woodland, Rain, Soliloquy and Le Soleil au Travers les Arbres. Tracing the conceptual thread of her work, Lesia will address the interplay between nature, industry and community and highlight the important role the arts can have in furthering the growth and development of cities.
About the Speakers
Jane Perdue, Public Art Coordinator, Urban Design, City Planning, City of Toronto
Since 1991 Jane Perdue has worked full time for the City of Toronto as the Public Art Coordinator, Urban Design, City Planning. Responsibilities include public art policy development; approval and implementation of public art projects on public and private lands; and, the administration of the Toronto Public Art Commission (TPAC), a citizen volunteer group. As the City Planning representative, Ms. Perdue has been responsible for the approval process and implementation of over 100 public art installations in Toronto's public realm.
Ms. Perdue has a BA in Art History (minor in film) and in 2007 she received her full membership with the Ontario Professional Planning Institute and the Canadian Institute of Planners.
From 1986 to 1990, she was a volunteer member of TPAC serving as Vice-Chair for two years and from 1996 to 2009, she was a Board of Trustees member with the Art Gallery of Ontario.
She has been on public art selection committees such as the GTAA Pearson Airport; Winnipeg's "City Crossing", international urban design competition and in 2010, a jury member for the Canadian Fallen Fighters Memorial, National Capital Commission Lands, Ottawa. Over the years, Ms. Perdue has been a freelance journalist for CBC radio, CJRT and published in film and art magazines.
Shirley Madill, Curator, ScotiaBank Nuit Blanche 2011
Shirley Madill is a graduate from the University of Manitoba whose post-graduate studies focused on International and Cultural History as well as Art History. She was Curator of Contemporary Art and Photography at the Winnipeg Art Gallery from 1979 until 1999 when she left to take position of Chief Curator/Director of Programming at the Art Gallery of Hamilton and Vice-President and C.O.O. as well as Director of Programming. She was CEO at the Art Gallery of Greater Victoria from 2006-08, Director of Rodman Hall Art Centre, Brock University from 2008-2011 and currently Director of the Kitchener-Waterloo Art Gallery. She is a member of the International Association of Contemporary Art Curators, travelled extensively throughout the world and curated many exhibitions in contemporary art on an international level. Madill has also served on numerous Canada Council juries and presented papers on photography, performance art, women's art issues, and First Nations art across Canada and the United States. She has also taught courses in 20th Century Canadian and European Art at the University of Winnipeg and the University of Manitoba and Brock University, St. Catharines, the History of
Photography at Mohawk College in Hamilton, Arts Management at the University of Victoria and Curatorial Studies at Brock University. In 1993 Madill spent a six-month residency in Valenciennes, France at the Ecole des Beaux Arts de Superieure. Madill also served on various art organizations' Board of Directors including the position of President of Winnipeg's Contemporary Dancers for over seven years, OAAG Board and HECFI Board in Hamilton. She also completed the Museum Leadership Course at the Getty in 2009. She has an extensive publication record. She recently received the Ontario Association of Architects Certificate of Recognition for the Advocacy for Architecture for the Future Cities international exhibition project and was the 2004 Canadian Commissioner for the Sao Paulo Bienal featuring the work of David Rokeby. She won an award for best exhibition 2007 from the Ontario Association of Art Galleries and in 2010 for the publication David Hoffos: Scenes from the House Dream. She was one of three curators of ScotiaBank Nuit Blanche 2011 for Zone B, The Future of the Present, that featured artists who worked in new media and technology to activate socially architecture and public spaces in the city.
Lesia Mokrycke, Public Artist
Lesia Mokrycke is a Public Artist working in the Toronto area. Lesia has worked on several large-scale, site-specific public projects in the United States and Canada. Her most recent projects include Woodland, a 50 x 50' mural for McCallumSather Architects; a large site-specific mural project in Maryland titled Le Soleil au Travers les Arbres; a Philadelphia based installation titled Rain designed around the ephemeral experience of nature; and a triptych Soliloquy that explores the relationship between individuality and urban space. Lesia is currently working on an installation piece with collaborator, Daniel Lee of London, UK, for ScotiaBank Nuit Blanche 2012.
Lesia's work investigates the interplay between nature, industry and community. Her work responds to the specific qualities of a site and what it means to experience a "sense of place". She is interested in the design of nature, the design of city spaces, and in the way art can be understood within the context of the built environment.
Lesia was educated at the University of Pennsylvania and the Pennsylvania Academy of the Fine Arts in Philadelphia. She holds a BFA in Art and Art History with concentration in English Literature. While at Penn, Lesia participated in a study abroad program with Goldsmiths, University of London. Lesia graduated cum laude and is the recipient of several awards for her creative work.
For more information and to register, please visit http://www.rom.on.ca/programs/lectures/index.php?ref=showinfo&program_id=7796.