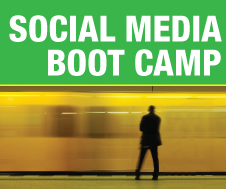 Chicago, IL (PRWEB) April 23, 2012
Ragan Communications, a premier resource for social media training, is holding a one day social media boot camp in New York City on May 17th. The boot camp is hosted by Ragan's CEO, Mark Ragan, who used social media techniques to create the most popular news and information site in the communications business.
During the day-long session attendees will learn how to:

Use Twitter, LinkedIn and Facebook to reach reporters who ignore your traditional pitches;
Launch an internal social network for employees for less than a few thousand dollars;
Strategies for responding to the "thiscompanysucks.com" phenomenon;
Build credibility between leadership and employees with a CEO blog.
Ragan will shares strategies, best practices and case studies from companies such as Dell, Starbucks, Sony, Southwest Airlines, and more. Attendees will also learn how to tap social media to generate ideas from customers and employees, and how to produce podcasts for employees. And, of course, Ragan will ensure that attendees are well prepared for a social media firestorm.
To learn more about Ragan's Social Media Boot Camp for Corporate Communicators and to register, visit this link: http://bit.ly/ItraJC
About Ragan Communications
Ragan Communications operates two of the top news and information sites for the PR and corporate communications industry — Ragan.com and PRDaily.com. Together, these daily news sites attract nearly 700,000 global visitors. The company also covers the health care and HR communication industries with its daily news sites HealthCareCommunication.com and HRCommunication.com. The Chicago-based company is also the leading provider of conferences and online training to PR, media relations and corporate communications professionals.