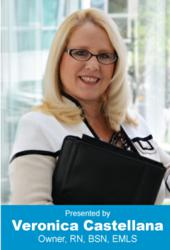 Las Vegas, NV (PRWEB) April 23, 2012
Nurses in the Las Vegas, NV area who are interested in becoming Legal Nurse Consultants now have the exclusive opportunity to attend a free informational workshop created by RN MARKET. The workshop will be presented by Veronica Castellana, author, renowned educator, practicing Legal Nurse Consultant and industry leader in modern Legal Nurse Consulting techniques. Veronica will offer Nurses a glimpse into the exciting life of a successful Legal Nurse Consultant who can earn up to $150/hour reviewing medical records in legal cases. Veronica knows exactly how to get ahead in the Nursing industry and she is excited to share that knowledge with other Nurses. After the introduction workshop, the Nurse will have the opportunity to enjoy some free cocktails while hobnobbing with Veronica, other key RN MARKET staff members and other Nurses who are ready to get ahead in their Nursing career.
"Nurses need to know that there are other big opportunities out there. Legal Nurse Consulting is an exciting field where Nurses can achieve great success. However, Nurses ready for this change need to understand exactly what key elements are necessary for them to find success. Without these key elements, most Nurses fail at this endeavor. That is why we are offering this workshop for free. Our goal is the success of our Nurses."

Veronica Castellana, Owner, RN, BSN, EMLS
This is the first workshop of its type offered by RN MARKET and other organizations in the Legal Nurse industry. A big response is expected from Nurses interested in becoming Legal Nurse Consultants. Limited seating is available.
Call 866-933-2562 for more information and registration.