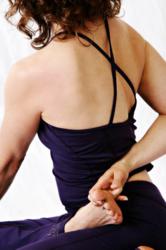 Teacher training with Muselan offers you an opportunity to learn and apply yogic philosophy to your own practice, your life and your teaching. - Lead Teacher Trainer, Denise Bunch
Eagan, Minnesota (PRWEB) April 25, 2012
YogaSoul Center is teaming up with local yoga school Muselan to offer an intimate and dynamic hatha yoga teacher training this fall.
Anyone who is interested in teaching yoga, or simply deepening their study of this beautiful ancient tradition, is invited to participate. A group of no more than 12 students meet each week, creating an individualized learning setting and an intimate community of people committed to personal growth.
"I am so excited to be partnering with YogaSoul for the hatha yoga teacher training this fall," said Laura Erdman-Luntz, owner of Muselan Life Coaching and Yoga, and a yoga teacher with more than 20 years of experience. "YogaSoul is a lovely studio and we are thrilled to be working with them."
The 200-hour training is registered with the Yoga Alliance. In this extensive and in-depth program, students will learn poses, as well as how to teach and adjust the asanas. They'll learn meditation and breathing techniques, yoga philosophy and history, sanskrit, community service and karma yoga, the business of yoga, and much more.
"Teacher training with Muselan offers you an opportunity to learn and apply yogic philosophy to your own practice, your life and your teaching," said Denise Bunch, who will be leading this program. "This is a well-rounded training with an emphasis on applying yogic philosophy and values, safety and alignment for hatha yoga postures, and cultivating your own personal style. Programs are smaller, as well, which gives each person more personal attention and guidance."
Students meet each Thursday from September through May. Cost of the program is $3,100 if paid in full by the first date, and a payment plan is also available. Scholarships are available on an as-needed basis.
To apply for the program, students must have a minimum of six months of yoga practice. From there they will need to fill out an application that includes essay questions, two letters of recommendation, and a deposit. Potential participants must read program outlines as part of the application, as well as program details. To find the application and outlines, go to http://muselan.typepad.com/yogamuselaura/muselan-200-hour-yoga-teacher-training-yoga-study-in-eagan-mn.html. To get the program details, e-mail Inspiration@muselan.com. Students will be interviewed once their application is submitted.
For other questions or more information, contact info@yogasoul-center.com.
YogaSoul's mission is to help clients win the battle against stress. It has an extensive class offering in several styles of yoga, including Kundalini, Hatha, Yin, and Vinyasa. It boasts a fully equipped Pilates studio and offers many kinds of classes, including Zumba, Tai Chi and belly dancing. Its full roster of teachers and healers provide clients with a variety of healing services, including intuitive readings, Reiki, Thai yoga bodywork, Ayurveda, energy work and several others. YogaSoul also hosts special workshops, as well as Kundalini and Hatha yoga teacher trainings.
To see a full schedule, make an appointment with a healer or sign up for a class, visit YogaSoul's website, http://yogasoul-center.com/. New students get their first week of classes free.