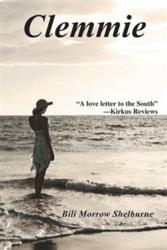 (PRWEB) April 24, 2012
Bili Morrow Shelburne recently released her eagerly awaited second novel, "Clemmie" (published by Abbott Press), the story of a young woman's desperate search for clues to her forgotten past.
Set largely on Hilton Head Island, S.C., the book is at turns both intimate and harrowing. In lavish praise for the book, Kirkus Reviews raved:
"Shelburne expertly weaves a complicated narrative through a series of flashbacks; readers are guided through Clemmie's life as she recovers her missing memories and as she experiences the harsh realities of life in a mental hospital.... The book reads as a love letter to the South in many ways, and Shelburne describes the beauty of the distinctive coastal region in wonderful detail. As Clemmie remembers more of her past, drawing ever closer to the mystery of how she arrived at Still Waters, several characters emerge to populate her life. From Mama Rae, the mysterious woman who lives in the woods and practices voodoo, to Addie Jo, a malicious home-wrecker, to Jimmy Castlebrook, a man who may just be the love of Clemmie's life, every character is rendered with unique details…. A fluid narrative that weaves through memory and time and an in-depth character study of a woman's journey to recover herself."
About the Author
Bili Morrow Shelburne, author of the previously well-received novel, "Blackbirds and Butterflies", currently resides in Houston, Texas, but returned to her former home on Hilton Head Island for the inspiration for her riveting new book, "Clemmie".
Abbott Press, a division Writer's Digest—the oldest and most respected publisher devoted to the education and advancement of writers—is an indie-publishing imprint dedicated to helping writers bring their literary vision to print. Author Solutions, Inc., a leader in indie book publishing, will fulfill publishing, sales, and marketing services for Abbott Press. For more information, or to begin publishing a book today, log on to abbottpress.com or call 866-697-5310.
EDITORS: For review copies or interview requests, contact:
Marketing Services
Tel: 866-697-5310
Fax: 812-961-3133
Email: pressreleases(at)abbottpress(dot)com
(When requesting a review copy, please provide a street address.)