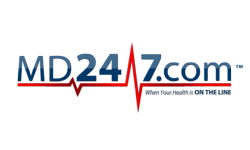 Join the MD247 team!
Tampa, FL (PRWEB) April 23, 2012
Medical professionals across the United States received an invitation from telemedicine leader MD247 on Monday, inviting all recipients to explore and review the professional freedom available with the MD247 healthcare services program. The invitation was sent specifically to registered nurses, board certified doctors and medical support professionals and was designed with the understanding that industry professionals are disenchanted with the bureaucracy associated with the classic modern medical system. The ultimate goal of the invitation is to retain some medical professionals who are on the precipice of calling it quits within the field of medicine, and making it possible for these doctors to become a part of a system in which a patient can directly talk to a doctor. MD247 also wants to provide registered nurses to enjoy the option of having their patients come directly to them with questions, and allow the patients directly talk to a nurse to convey questions and concerns.
MD247 Founder Thomas Meehan made the initial determination as to which medical professionals would receive an official invitation. If a board certified doctor, or a registered nurse, did not receive an invitation; the medical professional is invited to visit MD247 on Facebook (http://www.facebook.com/md247dotcom) to request more information.
MD247 wants to continue adding to its core of top-notch doctors and nurses, as the company continues to create industry standards for telemedicine.
Seminole Florida based MD247 (MD 247; MD/247; M.D. 247; MD247.COM) provides discounted telemedicine healthcare services nationwide to families, and discounted wholesale telemedicine healthcare to businesses. MD247 has successfully provided 25,000 people the ability to talk to a doctor twenty-four hours a day, talk to a nurse twenty-four hours a day, receive discounted prescription drugs and receive discounted in-person healthcare services. In addition to discounted healthcare services, MD247 provides support to groups supporting the employment of veterans of the United States Armed Services. MD247 services, as well as informational blogs, can be found for review online at http://www.md247.com.