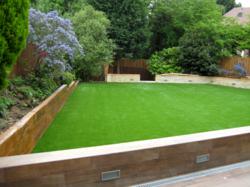 It might not yet be a modern phenomenon
(PRWEB UK) 26 April 2012
Worried about how the hosepipe ban might impact on a garden? Worried about how the lawn might look without regular watering?
Well how about this – why not simply dig up the lawn, and replace it with artificial grass.
Crazy? Not really!
An interesting statistic from the USA recently revealed that every square foot of natural grass replaced with artificial grass saves an estimated 55 gallons of water per year! Think how popular that could make you with the local authorities!
And that is why the artificial lawn business is one of the fastest growing in the country. The hosepipe ban might well be an inconvenience to some, but to others it is proving a great business opportunity.
With seven water supply companies threatening £1000 fines for hosepipe use, homeowners are turning to fake grass to keep their lawns green this summer. This comes as the British Association of Landscape Industries warns turf farmers and landscapers will go bust this summer if they are not allowed to use hosepipe's to keep grass lawns alive.
Said Andy Driver, a spokesman for the LazyLawn brand, the UK's biggest provider of artificial lawns: "The message is clearly getting through – since the Government announced its hosepipe ban, the demand for artificial lawns is on the increase.
"It might not yet be a modern phenomenon, but more and more keen gardeners are opting for the change."
And it's not just home owners turning to synthetic lawns, but schools and councils want something more sustainable and practical.
"And why not? Artificial lawns are certainly a cheaper alternative to real grass in the long term – indeed, they cost very little to maintain.
"Think too, of the benefits: green grass the whole year through, no more mud, no more mowing the lawn, and a lawn that is as near to the real thing as it can be.
"It's ideal for children, it's comfortable to lie on if you want to do some sunbathing on a summer's day – and the family pets love it too."
And so do the environmentalists. Aside from the reductions in water use, artificial grass and turf reduces pollution caused by fertilizers and landscaping equipment.
Said Andy: "It's a no brainer really. You have a lawn that looks great, that's environmentally friendly and that's easy to maintain. It ticks a lot of boxes for the modern day family."
"The hosepipe ban has really made people think about alternatives, and I'm delighted to report they are coming to speak to us about the alternative!"