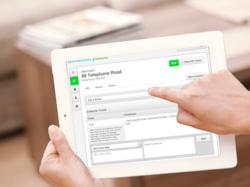 InventoryBase will significantly reduce administration overheads, give agents a mechanism to submit jobs to their teams, manage an entire team's schedule, record detailed inventory logs, and produce or recall reports at a click of a button
Portsmouth, UK (PRWEB UK) 24 April 2012
Launching today, InventoryBase is a new multi functional inventory software, that makes creating, recalling and comparing property inventories on the move effortless.
InventoryBase is a completely web-based system that can be accessed on every device from smart phones to desktop PCs. And, unlike similar systems, this property inventory software allows unlimited inventories, unlimited users and free support for a fixed monthly fee.
Designed as a complete solution, the home inventory software allows the user to create detailed inventories including photos, in seconds. It also provides a booking system for clients and estate agents, assigns tasks to team members and produces reports that are fully customisable to include logos and any specific legal information.
Created by Radweb, a Hampshire based IT firm, software creator Steve Rad said: "InventoryBase is property inventory software that's about working smarter, not harder. It provides a fast, effective and logical way of creating reports for landlords, and letting agents."
"In a nutshell, we've developed a product that will significantly reduce administration overheads, gives agents a mechanism to submit jobs to their teams, manages an entire team's schedule, records detailed inventory logs, and produces or recalls reports at a click of a button. It's inventory clerk software made easy"
Steve designed InventoryBase after working with numerous clients, creating bespoke letting agent software that met their individual needs. Having witnessed the issues firsthand Steve then set about building InventoryBase from the ground up using the most cutting edge technology.
"Inventories are really important documents; protecting both the landlord and tenants from any legal action when a tenancy ends. Usually produced by the agent this document has always been a lengthy process, relying on manpower and follow up paperwork."
"The demand for a streamlined, simple way of producing inventories has been met with InventoryBase and today I can't wait to see it launch and make life easier for everyone in the letting industry! It's property inventory software designed with today's landlords and agents in mind"
Notes
http://www.inventorybase.com
http://www.radweb.co.uk
For further information please contact Steve Rad:
07719 532018
steve(at)radweb(dot)co(dot)uk
Portsmouth, UK Office:
+44 (0)33 33 444 505
12 Acorn Business Centre,
Northarbour Road,
Portsmouth,
PO6 3TH
Radweb is a leading e-Commerce and e-Marketing agency based in Hampshire that has been producing great looking, functional and engaging websites for over 10 years. In that time, they've grown from a small start-up of 2 ,to a respected full-service agency employing talented designers, programmers and marketing professionals.
InventoryBase, property inventory software, key benefits:

Efficient
Automated inventories and admin
Accessible on the move – smartphones etc
Perfect for busy agents and landlords
Packages include:

Fixed price £50 or £100 per month
Unlimited inventories and other reports
No hidden fees or contracts
Unlimited users at no additional cost
No installed software – works anywhere with an internet connection or 3G/4G
No additional hardware required – works seamlessly on multiple devices over a browser
Free support & access to training videos
Reports available include:

Inventory
Check In, Check Out
Interim/Mid-Term Inspection and Update
All with attachments such as photos, videos, documents and any other supporting notes, including meter readings, keys and utilities.