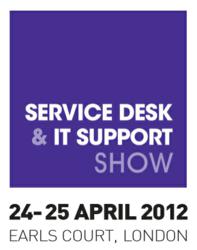 (PRWEB) April 23, 2012
London, UK: The UK's premier IT service management and IT support show is preparing to welcome thousands of industry professionals to its 18th edition at London's Earls Court tomorrow, on 24-25 April, after visitor pre-registration figures hit a three year high of 5,292. The show is now comfortably ahead of last year's total pre-registrations, reports organiser Diversified Business Communications UK.
Laura Venables, Service Desk & IT Support Show's event manager, comments: "Our exhibitors include some of the most innovative names in the industry, who are constantly evolving and developing their products and services to help improve the way their clients work and do business. So whether visitors are travelling from a mile away or across Europe to attend, they'll find plenty here that they simply won't find at any other UK show."
The Service Desk & IT Support Show has established a huge following for being the go-to event for IT service and support professionals wishing to utilise the latest tools, technology, and ideas they need to meet the unique challenges of their rapidly evolving industry. With nearly a quarter of the event's exhibitors appearing for the first time, and many returning exhibitors having already announced new launches to coincide with the show, visitors to this essential two-day event will benefit from seeing hundreds of the latest innovations and advances from some of this industry's leading specialist vendors, integrators, consultancies and service providers.
First time exhibitors for 2012 include Celonis, Epaccsys, EXIN, GFI Max, ISL Online, N-able Technologies, panintelligence, Selection, Simplisys, The Open University, Virtuacon, xMatters, Aim Hire Recruitment, IT Training Zone, Visionera AB, plus leading IT and BPO managed services company Intelegencia Analytics.
The most recent new addition to the exhibitor list, Perry Chaturvedi, Intelegencia Analytics' founder and CEO, is looking forward to meeting and doing business with the 4,000+ ITSM professionals the show annually attracts:
"We are very excited to exhibit and attend the Service Desk & IT Support Show for the first time," comments Chaturvedi. "I am looking forward to participating in this event personally, to learn and meet all those representing various vertical and domains in the UK and Europe."
More show firsts include increased capacity across all three dedicated seminar theatres (sponsored by Serena™), enabling 33% more attendees to benefit from the show's essential educational content, plus a new boardroom-style Keynote Theatre (in association with Ovum), located upstairs in Earls Court's executive conference centre.
Visitors arriving at Earls Court for show open tomorrow (9.30am) will also enjoy first pick of this year's Hot Topic Roundtable Discussions (sponsored by TechExcel). These include a choice of twelve topic-led sessions – on everything from BACK2ITSM: The Service Catalogue to Key Considerations for Upgrading a Service Desk System – across three Hot Topic Zones each day.
To view the full education programme, which combines six Keynotes, 40 seminars, two Breakfast Briefings, and to register for free show entry, please visit http://www.servicedeskshow.com/register (quoting priority code SD1033). Service Desk & IT Support Show attendees will also benefit from free access to Infosecurity Europe 2012, Europe's No.1 information security event, co-located at Earls Court.
The Service Desk & IT Support Show at Brompton Hall, Earls Court, London, is open from 9.30am to 5pm on Tuesday 24 April and Wednesday 25 April.
Members of relevant trade and consumer media can reserve press passes to the Service Desk & IT Support Show by contacting Emma-Louise Jones at ejones@divcom.co.uk before 5pm (GMT) today (23 April 2012).
Media enquiries & press pass requests to:
Emma-Louise Jones, PR Manager
t: +44 (0)1273 645134 e: ejones(at)divcom.co.uk
http://www.twitter.com/DiversifiedUK
SDITS exhibitor enquiries to:
Laura Venables, Event Manager
t: +44 (0)1273 645138 e: lvenables(at)divcom.co.uk
http://www.twitter.com/SDITS
http://www.servicedeskshow.com
Notes:

Diversified Business Communications UK Ltd (Diversified UK) is a fast growing trade event organiser and publisher based in Brighton. In addition to the Service Desk & IT Support Show, Diversified UK's portfolio includes Natural & Organic Products Europe, Natural Products Scandinavia, lunch!, camexpo, office*, office INTERIORS, Natural Products magazine and the Natural Beauty Yearbook. http://www.divcom.co.uk
Diversified UK is part of Diversified Business Communications, a leading international media company with a successful portfolio of sector leading exhibition, conferences, publications and websites.