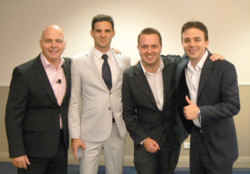 Sydney, NSW (PRWEB) April 25, 2012
A recent survey conducted by Bestagents Real Estate Group has found that over 50 percent of residential real estate agents have no structured system to manage their buyers and sellers.
Bestagents CEO Ray Wood confirmed the group's survey showed half the agents use either Word documents, Excel spreadsheets, or no system whatsoever to manage and maintain contact with potential clients.
Wood believes the extraordinarily high 'churn' rate in the real estate industry will continue unless agents understand and embrace the concept of quality client care.
"Real estate has never been more competitive. A changing market means there are more agents, and fewer homes for sale. Every agent who wants to still be in this industry in 12 months time needs a quality customer relationship management system now. Agents who fail to do this will be forced out by agents who do." He said.
But a brand new real estate software startup is catering to that need, and business is booming.
Sydney-based real estate cloud software provider, LockedOn, uses cloud technology and mobile device integration, with feedback from high-performing real estate agents and trainers, to offer real estate agents a fast and highly functional customer relationship management system.
LockedOn Development Team Leader, Iain French, says the company is reinventing agent/client communication.
"LockedOn is complete solution for real estate agents and offices, leveraging new technology, combined with unprecedented client support and an intuitive user experience, to help agents reach out to their clients like never before, including bulk yet personal emails, SMS, MMS and hard mail letters, and prompting the agent when they should be sent" He said.
French sees new technology and real estate as a perfect fit. "Look at the latest technical options available to agents. They want to send MMS messages to their database of potential vendors and buyers, use their iPad at a listing presentation to win new business or record buyer details at an open home. LockedOn does all of this and much more."
While having a database to maintain client contact is important, French stressed that choosing the right database system was crucial. "In order for a client management system to work effectively, it has to be mobile. For any agent in real estate, cloud software is a prerequisite. The ability to access your data from any device, anywhere in the world, gives you amazing flexibility as an agent."