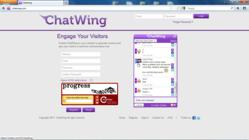 Portland, OR (PRWEB) April 25, 2012
Chatwing is built on the solid premise of entertaining people through a new chatting platform. Many people started signing up during its early release because of Chatwing's improved rate of connectivity. Now, this chat widget is upping the communication standards by launching a Facebook log-in option for its guests and visitors. The early release of the option helped the widget generate more sign-ups for this month.
According to the developers of Chatwing, Facebook integration is one of the most efficient tools that an application can use. "To integrate Facebook is to create an avenue of communication that can benefit web users and frequent chatters," says Michael Diamond, one of Chatwing's elite developers. The statement lives up to the truth. People who used the Facebook log-in option went beyond the traditional chatting and sent out invitations to other users.
Facebook group makers also believe that the Chatwing chat widget can help them expand their own groups. Some believe that Chatwing is an inexpensive marketing tool that anyone can use. Since Chatwing can also be installed to blogs, its purpose goes well beyond expectations.
Installation of the Chatwing widget is also time-friendly, unlike other applications that require complicated commands. Chatwing is a stand-alone program, so installation is not mandatory. However, it has been proven that a widget installed in any blog has a potential to increase its online presence. This applies well for Chatwing because it is a chat box and can provide certain topics for guests and visitors.
To install Chatwing, the user must first register his blog or website's domain name. After that, he must set up an official account that will serve as dashboard for all the widgets he is planning to use. Customization is the next step. The user can modify the height and width of the widget by adjusting two sliders. He can also mix and match colors to fit his blog's theme. It is also advisable to change the title of the shoutbox. If this option was never taken, Chatwing will provide a random string.
Once Chatwing has been embedded, it will usually go live in under few seconds. Chatwing's developers have also stated that there will be more upcoming features in few months.
About Chatwing
Chatwing.com has developed live chat software for websites and blogs. The Chatwing.com website offers users the ability to signup and create a customizable live chat box feature in 1 minute or less. Users have the ability to customize the size, color, and fonts of the chat product. The ability to chat via social media accounts such as Facebook and Twitter enable Chatwing to offer a personal and unique real-time experience to all sites. Chatwing is 100% free web software.