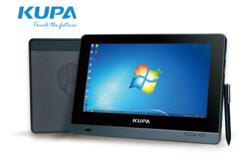 Several Kupa representatives will be at the event to cover practical issues, share field experience and provide demos using Kupa X11 tablet computer.
New York, NY (PRWEB) April 24, 2012
Kupa, the Europe based tablet computer manufacturer has announced its participation at the2012 TabTime Tablet Strategy conference that will be held on April 27 2012 in New York City. Kupa has been assisting business and organizations integrating tablet computer into their overall IT strategy for the past few years and wants to contribute its experience from serving the enterprise customers and its unique perspective as hardware manufacturer to the conference. Several Kupa representatives will be at the event to cover practical issues, share field experience and provide demos using Kupa X11 tablet computer.
Over the past few years, Kupa has been steadily building up its reputation of dedicated client support and technical know how by launching several successful Microsoft Window based tablet computers. The latest Kupa Windows tablet computer is the X11, which garners accolades from technology news outlet and enthusiastic users. One such example is with PC Magazine, where analyst Brian Westover gave 4 stars out of 5 for X11 Pro for its "Solid performance. Long battery life. Two full-size USB ports and mini HDMI out. A finger-friendly user interface and silky matte screen make Windows more touchable." Brian was especially impressed that "Even though the hardware inside is the same, the performance is not" referring to X11 outperforming similar competitor product, the Fujitsu Q550 and Motion Computing CL900, when sharing the same processor.
TabTimes TABLET STRATEGY is the first-of-its-kind business conference to help decision makers define, select and deploy the right tablets, apps and security for their organization. The goal is to guide attendees toward smart business decisions that guarantee increased employee productivity and maximum return on IT investment. TabTimes TABLET STRATEGY sessions will educate and increase attendees' understanding of the decision, procurement and deployment processes. It will help them understand the implications of allowing employees to use their own devices in the workplace vs. company-purchased technology. TabTimes TABLET STRATEGY will be held on April 27, 2012 in New York City at The Dream Downtown Hotel, in New York City's Meatpacking District.
Kupa X11 is the next generation Windows based table PC with pen + touch dual input system, 10 hours battery life and many unique features that are not found in current tablet computers:

Pen + Touch Input System with pen is the sensitive to different levels of pressure
10 hours continuous operation and 30 days standby battery life with a single charge
Robust, and energy efficient operation with thin and light profile result from solid state design
64 GB and 128GB SSD versions, with 128GB SSD being the largest storage option of any tablet computer
-Wi-Fi, 3G, Voice Calling, Bluetooth, USB and mini HDMI offers full connectivity, wireless or wired

Dual cameras: Front 2MP / Rear 3MP -Enterprise security features such as fingerprint scanner and Trusted Platform Module
Dual antenna design for Wi-Fi, and 3G for maximum signal strength
-Windows 7 Professional
X11 is available for order now at Kupa. Please visit us at http://www.kupaworld.com or email us at info.us(at)kupaworld(dot)com for more details or questions. KUPA is a global technology firm with a strong focus on mobile and green technologies.