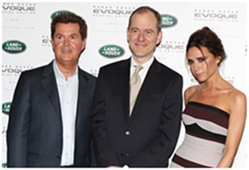 London, United Kingdom (PRWEB UK) 23 April 2012
Range Rover has exclusively unveiled the new Evoque Special Edition on the eve of the Auto China motor show in Beijing. The latest Evoque was a collaborative project between the Land Rover Design Team and 2011 winner of the coveted Designer Brand of the Year award at the British Fashion Awards, Victoria Beckham. Victoria Beckham along with her business partner Simon Fuller at XIX Entertainment, travelled to China to oversee the launch. The launch event took place on the eve of the Beijing motor show at the Cafa Art Museum, in front of a packed house of journalists and VIPS including British Ambassador to China Sebastian Wood and Simon Fuller.
Read more: http://www.dailymail.co.uk/tvshowbiz/article-2133665/Victoria-Beckham-stuns-arty-advertising-material-custom-designed-Range-Rover.html#ixzz1srcWhjHs
Simon Fuller, whose company XIX Entertainment partners Victoria Beckham, commented:
"Victoria has had an incredible start to 2012, as she was named Designer Brand of the year. Her fashion business is growing impressively in every market in the world and now here she is in Beijing launching her special edition Range Rover Evoque at one of the world's most important car events. Victoria could not be happier pursuing a career that she loves and I am looking forward so much to seeing what the future holds for our business partnership."
Victoria was appointed Creative Design Executive in July 2010, and has worked with the Land Rover design team under the guidance of Design Director Gerry McGovern over the past 18 months. She was delighted to be part of the Land Rover design team, and told the Daily Mail that, "It's a great honour. I wanted to design a car that I want to drive and that David would want to drive. I want a car that reflects my personality. I'm really proud of this car."
For additional information, please visit the XIX Entertainment website
-End-
About Simon Fuller's XIX Entertainment:
Simon Fuller's XIX Entertainment is one of the most dynamic and influential forces in the global entertainment business, with a staff of fifty executives based in offices in London, New York, Los Angeles and Nashville. Fuller is certified as the most successful British manager of all time, and American Idol, the multi-billion dollar TV format he created, continues to break records for audience size and interaction. Simon Fuller's XIX Entertainment manages Annie Lennox, The Spice Girls, Lisa Marie Presley, Carrie Underwood, Will Young, the winner of 2011's American Idol, Scotty McCreery, and is in partnership with iconic couple Jennifer Lopez and Marc Anthony for their latest production Q'Viva! The Chosen! In sport, Simon Fuller's XIX Entertainment manages the career of David Beckham, world tennis No.3 Andy Murray and the 2008 Formula 1 World Champion Lewis Hamilton. Beyond music, TV and sport, XIX Entertainment's interests in fashion include a joint venture with influential designer Roland Mouret, and a flourishing partnership with Victoria Beckham whose award winning and critically acclaimed ready to wear collections have become a multi-million dollar business.