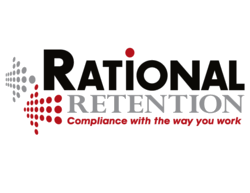 Miami, FL (PRWEB) April 25, 2012
Rational Retention ("RR"), a leading developer of retention and e-discovery software, announces today that it has partnered with the academic team of New York University's Center for Health Informatics and Bioinformatics and with Discovery Holdings LLC (a technology holding company specializing in Markov Boundary, Causal Graph, Kernel Ridge Regression, Support Vector Machines, and other cutting-edge high-dimensional data classification methods) to dramatically expand and enhance its "predictive coding" and auto-classification platform in the e-discovery space. The new offering will be named Rational Intelligence ("RI").
Rational Retention and the NYU team of experts will collaborate to deploy Discovery Holdings' proprietary, best-in-class machine learning algorithms and analytic protocols to intelligently and automatically code documents in the context of litigation. By using multiple classifier algorithms and advanced Causal Graph / Markov Boundary methods, RI will deliver the most accurate, cost-effective, and transparent automated document review technology in the market today. Rational Intelligence will provide enhanced efficiency in finding responsive documents and eliminating non-responsive documents, as well as in classification for privilege, issues, and importance. RI deliverables include a detailed report outlining each step in the automated coding process, including a transparent display of document characteristics that lead to coding decisions. The outcome is a defensible process and results in which law firms, their clients, and the courts can truly have confidence.
The NYU team is headed by Dr. Constantin Aliferis, a pioneer of high-dimensional Machine Learning methodologies, and joined by domain leaders Alexander Statnikov, Lawrence Fu, and Yin Aphinyanaphongs. The techniques and algorithms developed by the NYU team are currently used in a number of real world applications, including diagnosis and personalized therapy, and data mining for financial optimization. Rational Intelligence is now applying these same tools and methodologies to e-discovery.
Rational Intelligence has already concluded the largest known text classification benchmark to date, testing over 100,000 combinations of datasets, classifiers, and implementation protocols. The results help drive RI's approach in analyzing, implementing, and validating the optimal classification approach for each project.
Last year, Rational Retention announced the release of their hosted review platform, Rational eDiscovery ("ReD"), which aims to provide the most powerful and cost-effective e-discovery repository in the marketplace. The ReD technology framework will be the foundation on which the new classification technologies will be deployed for the automated coding of legal data.
Rational Retention pioneered the application of Support Vector Machine-based classifiers in the records retention space. By using SVM, clients are able to organize (and pare down) massive volumes of stored data while feeling confident in its accuracy and without burdening end-users. Through integration of Rational Intelligence's proprietary algorithms, Rational Retention will take its existing classifier to the next level.
For more information, visit:
http://www.rationalretention.com
http://www.nyuinformatics.org/people/faculty/constantin-aliferis-md-phd
About the Academic Team and Discovery Holdings LLC
The NYU Center for Health Informatics and Bioinformatics, led by Dr. Aliferis, conducts cutting-edge computational methodological research and, over the span of the last decade, has made major breakthroughs in the development of software, algorithms, and theory in the interpretation of super-high dimensional data, toward unraveling mechanisms of disease for robust predictive modeling of complex biological systems. Several of the algorithms, protocols, and software developed by the NYU group enjoy thousands of research- and industrial-registered users, including major universities, pharmaceutical companies, and IT companies. Much of their research and innovation involves the classification of unstructured text. They have created and patented causal graph and Markov Blanket discovery algorithms to increase accuracy, decrease runtime, reduce training set size, and increase defensibility.
Discovery Holdings LLC has exclusive rights to an extensive array of proven classification and other data analysis technologies that will be made exclusively available to the partnership in the domain of legal discovery.
About Rational Retention
Rational Retention was started in 2006 by the founders of the then most successful provider of hosted e-discovery document review and production services. Rational Retention develops software that effectuates enterprise retention policy and discovery response against unstructured data, whether on the desktop, or in file share, e-mail server, or document management system. The result is simple and efficient responses to discovery requests that ensure real compliance and provide immediate insight into relevant information. By controlling documents and the discovery process from the start, RR will dramatically reduce the time, costs, and risks associated with compliance and litigation.