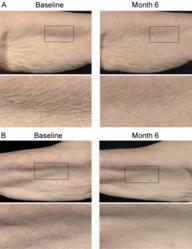 Avibon.com are pleased to announce this is the first systematic, double-blind study showing Vitamin A improves any kind of aging – photoaging as well as natural aging.
(PRWEB) April 25, 2012
Avibon créme for reducing wrinkles continually tops must-have lists of Hollywood actresses' and their make-up artists. A Michigan study confirms its effectiveness stating, "Wrinkles, roughness and overall aging severity were all significantly reduced in the treated area compared with the control area treated with regular lotion." The study appears in the May issue of the journal Archives of Dermatology.
Avibon with Tretinoin/Retin-A can now be bought online with free shipping worldwide through Avibon.com. The site fills a niche providing a service that was long overdue after being featured on Goop.com with rave reviews from Gwyneth Paltrow, ELLE.com, Vogue.com, Style.com, and countless others while one could not buy Avibon direct from France in most countries before.
Depending on how many 30g tubes one orders, customers can now buy Avibon vitamin A for as little as $29 each with free shipping worldwide at Avibon.com. This is in sharp contrast to smaller websites charging $50 to $69 and an additional $10 for delivery. Avibon.com also benefits from the best product access due to having locations both in the south of France and western U.S.
Avibon.com customer Mary, in Syracuse, NY, comments, "This product must be the best kept secret in the U.S. My order shipped March 30th and arrived at my door April 7th. I will be re-ordering from Avibon.com when I run out at a later date.
And Avibon.com customer Jessica B. of Australia adds, "I ordered at Avibon.com all the way from Australia, and received my order roughly two weeks later at my door just as promised. Thanks Avibon.com."
Gwyneth Paltrow reviewed Avibon on her website stating, "I know an older movie star who uses this every night and she has the most amazing skin." Style.com recently wrote, "...a must-purchase while in Paris...for keeping wrinkles at bay." And, the official Australia VOGUE website wrote, "Pumped full of skin-clearing and wrinkle-blitzing Vitamin A, this anti-ageing cream is a secret weapon of stylists, editors and movie stars."
"In the past, everyone believed that retinoids would treat only photoaging, or damage from exposure to sun. This is the first systematic, double-blind study showing that it improves any kind of aging – photoaging as well as natural aging," says co-author John J. Voorhees, M.D.. "You can rub it anywhere, and it will help to treat the signs of aging."
For further information visit http://www.avibon.com. Avibon.com is an independent entity from Sanofi S.A., who manufactures the vitamin A tretinoin retin-A ointment. Avibon.com has offices in Nice, France and another in the western U.S.