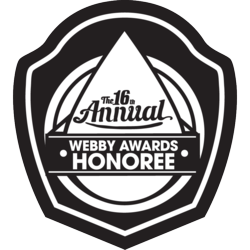 Chicago, IL (PRWEB) April 23, 2012
Gorilla Commerce, an award winning, full-service ecommerce solutions provider, has announced today that they have been named an official honoree for the 16th Annual Webby Awards in the Professional Services category for work on the Gorilla corporate site. This prestigious award, presented to a select number of companies from a pool of nearly 10,000 submissions representing over 60 countries, marks the third time in four years Gorilla has been recognized by the Webbys for excellence in website design and user experience.
"The Webby Awards are unquestionably the premier award in our industry, and the Professional Services category is fiercely competitive, so it's a particular honor to be recognized" , said Ethan Smith, Creative Director at Gorilla. "The award is not only a reflection on our design team, but on everyone at Gorilla who has contributed to making the site what it is today."
Just as with every client project, the Gorilla site is a collaboration among the company's in-house design, development, marketing and content strategy teams. The clean, yet vibrant, aesthetic and instinctive user interface has become a vehicle not only for building the brand image, but to serve as a valuable piece of the company's business development process. The site places a focus on showcasing client work and the real-world challenges the Gorilla team is able to solve functionally through design, development and strategy. The site's ongoing content strategy ensures a steady stream of fresh and informative content to keep both new and returning site visitors engaged and up-to-date with the brand message.
The most recent honor follows 2 previous Webby Awards presented for client site work in 2009 and 2010. The 3 total Webby Awards in the span of four years places Gorilla Commerce in the elite company of some of the world's largest interactive agencies and best known media companies. This underscores the company's commitment to producing exceptional work for every site the company produces.
Organized by the International Academy of Digital Arts and Sciences, the 16th Annual Webby Awards will take place in New York on Monday, May 21, 2012, and will be streamed live on http://www.webbyawards.com beginning at 5:30EST.
About The Webby Awards: The Webby Awards is the leading international award honoring excellence on the Internet. Established in 1996, The Webbys is presented by The International Academy of Digital Arts and Sciences, which includes an Executive 1,000-member body of leading Web experts, business figures, luminaries, visionaries, creative celebrities, and Associate Members who are former Webby Award Winners and Nominees and other Internet professionals. http://www.webbyawards.com
About Gorilla: Since 1994, leading brands, retailers, manufacturers and wholesalers have turned to Gorilla to solve their toughest ecommerce challenges and innovate solutions that elevate their businesses across sales channels. Headquartered in Chicago, Illinois, Gorilla offers a complete range of solutions, including award-winning website design, development, strategy, and post-launch managed services that combine to create a smarter species of commerce. gorillagroup.com