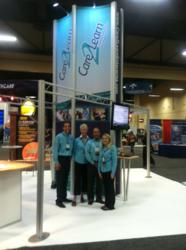 Tampa, FL (PRWEB) April 25, 2012
Care2Learn Upstairs Solutions, the leader in online continuing education and record-keeping for the post-acute care industry, will showcase its award-winning CE content and healthcare compliance training solution at the Ohio Health Care Association and Ohio Centers for Assisted Living 2012 Annual Convention & Exposition April 30–May 3 at the Greater Columbus Convention Center.
Following the recent merger of two healthcare eLearning leaders—Care2Learn and Upstairs Solutions—the newly combined company now offers the largest online healthcare CE library in the industry, with more than 500 fully accredited courses and over 300 inservices.
Care2Learn Upstairs Solutions will be located at Booth 114, where visitors can preview what the company has to offer—including an industry-leading healthcare Learning Management System featuring the latest eLearning technology plus enhanced record-keeping tools, full reporting, and live client support available seven days a week.
In addition to exclusive giveaways, visitors will receive a free online healthcare CE course: QIS: Quality Indicator Survey Process. Now more than ever improving reimbursement is a key objective for long-term care facilities, and understanding the CMS-implemented Quality Indicator Survey (QIS) process is critical for ensuring optimal survey outcomes. This 1-hour course describes in detail the computer-assisted QIS process used by surveyors to review facility requirements and investigate trigger areas.
About OHCA/OCAL/OCDD
The Ohio Health Care Association represents more than 800 nursing facilities, assisted living communities, and intermediate care facilities for the mentally retarded (ICF/MR). OHCA was established in 1946 to meet the needs of the state's growing number of long-term care professionals, which today totals more than 100,000 exceptional men and women who care for Ohio's most frail and vulnerable citizens. The Ohio Centers for Assisted Living (OCAL) and the Ohio Centers for Developmental Disabilities (OCDD) are affiliate groups formed by OHCA.
About Care2Learn Upstairs Solutions
Care2Learn Upstairs Solutions sets the standard for excellence in online CE and training for the post-acute care industry and holds more than 70 state and national accreditations. Founded in 2000 and acquired in 2007 by eLearning provider VectorLearning, Care2Learn is headquartered in Tampa, Florida. In 2012 Care2Learn merged with Upstairs Solutions, a leading online healthcare eLearning provider founded in 2005. Through our award-winning healthcare Learning Management System (LMS) Care2Learn Upstairs Solutions offers individual courses as well as large-scale corporate training solutions for healthcare organizations featuring customizable and easily accessible online universities with a full range of tracking, reporting and record-keeping features. With an online library exceeding 500 courses authored by more than 150 subject matter experts, the company serves more than 300,000 healthcare professionals in all 50 states and Canada and is the recipient of numerous community honors and industry awards. For further information visit http://www.Care2Learn.com or http://www.Care2LearnEnterprise.com.