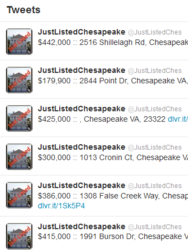 Searching the web I found "Just Listed Chesapeake Homes and Condos on Twitter" and received updates on my mobile phone - Dennis Blackmore's innovative service has been invaluable to me. Joe
Chesapeake, VA (PRWEB) April 25, 2012
Good homes go quick, and Just Listed helps the home buyer find a home fast without any hassle. - Just Listed Chesapeake Real Estate, Homes, and Condos for sale on Twitter is an easy and free tool for the potential home buyer to see all properties/neighborhoods as they immediately enter the market.
This an important value to the home and condo buyer as the market continues to improve good real estate for sale will go fast. Being a ready and able buyer provides an advantage.
Just Listed Homes for Sale show up automatically on Twitter via an IDX (MLS) real estate feed and updated in real time. This allows for the Chesapeake home and condo buyer to "bookmark" the page or sign up for tweets from the Just Listed Twitter site. Home buyers may visit the "Just Listed" website for additional information.
Just Listed on Twitter allows the home buyer to receive updates on their mobile phone or smart device and instantly see the real estate for sale.
The potential real estate buyer may then obtain enhanced and detailed information about the property including, REALTOR® contact information, particular neighborhoods, multiple pictures, elementary, middle, and high schools, square footage, bedrooms, baths, home owner association or condo fees, taxes, mortgage calculator, Google mapping, see similar and sold listings, and much more.
Those Chesapeake home and real estate buyers needing more expanded listings can use the enhanced IDX search site on the Dennis Blackmore's comprehensive blog. With this real estate search engine the buyer in search of a dream home anywhere in Virginia Beach, Chesapeake, Norfolk, Suffolk, Newport News, Hampton, Williamsburg, or all of Hampton Roads can insert their parameters to find all homes for sale on the market.
Just Listed Chesapeake Real Estate and Homes for Sale is just the start for the home buyer. With the new IDX home search technology the buyer can "drill down" to certain neighborhoods, school districts, waterfront, oceanfront, foreclosures, short sales, or a particular development and be first to see the property online.
Not a real estate technology "geek" – let Dennis Blackmore with Creed Virginia Beach Realty develop your "Just Listed" home, condo, or neighborhood search tool.