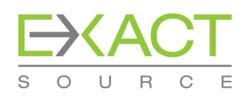 "The RPO market is growing, and ExactSource's technology and people make it uniquely suited to meet the needs of companies with hard to fill positions."
Atlanta, GA (PRWEB) April 24, 2012
Schmidt joins ExactSource from Matteson Partners, a sister organization, where he led the company in new business development. "David has been an invaluable contributor to Matteson's growth and we've tapped him to provide that same leadership for our new venture, ExactSource,"said Managing Partner, Bill Matteson.
"ExactSource is an innovative new company with an exciting future," said, Schmidt. "The RPO market is growing, and ExactSource's technology and people make it uniquely suited to meet the needs of companies with hard to fill positions."
Prior to joining Matteson Partners, Mr. Schmidt held senior sales and business development roles in a range of companies, from venture-backed startups to Fortune 500 companies in software, technology and telecommunications industries. Most recently, Mr. Schmidt served as Vice President of Sales for Preparis, where he implemented the sales processes and hired the lead generation and sales teams.
About ExactSource
ExactSource is a Recruitment Process Outsourcer that specializes in sourcing, screening and placing candidates for hard to fill positions. The company's web-based technology, ExactPlatform, measures and catalogues over 2500 attributes across 115 skill sets. ExactSource is able to identify and measure a number of key skills that aren't typically identified in a resume. The technology, combined with the ExactSource methodology enables ExactSource to source and fill positions with a better ROI than companies can internally.
For more information about ExactSource and the RPO services they provide, including their ExactPlatform, visit their new website, or contact David Schmidt at 678.580.4514 or dschmidt(at)exactsource(dot)com.