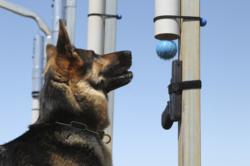 Training world-champion schutzhund and German shepherd protection dogs gives Kraftwerk K9 a unique perspective into the needs of both trainers and their canines.
Rochester, WA (PRWEB) April 25, 2012
Training world-champion schutzhund and dual purpose German shepherd protection dogs gives Kraftwerk K9 a unique perspective into the needs of both trainers and their canines. No reward system comes close to providing the results of the Original Helfer. Now one of the most innovative reward systems on the market today is available for purchase.
Revolutionary Remote Control Protection Dog Training Device
The Original Helfer gives trainers the ability to use positive motivation in training - even at a distance. Particularly recommended for exercises like off-lead scent detection, schutzhund training and other maneuvers generally requiring a training assistant. The Original Helfer comes preloaded with three high quality rubber balls, three inches in diameter. The flow of training continues as the trainer releases each ball individually to a location up to 400 feet away, all by pressing a single button.
Not only is the Original Helfer easy to use and provides astonishing results. Behavioral scientists have long known that positive reinforcement offers far more effective results than punishment or use of force. For the training to be effective, the reward must be presented within two seconds of completion of the desired behavior in order for correct association and conditioning to take place.
Reduces the Need of Close Proximity Protection Dog Training
Until now, this effective operant conditioning could only be used while training protection dogs when the handler and dog maintained close proximity. Handlers have traditionally turned toward the use of long lines or remote training collars to extend influence over the animal. However, the decreased effectiveness of such training techniques, setbacks nearly always occurred at this point in the training process. The Helfer is the solution. Training now takes on a more realistic approach when it is unsafe for a human handler to lead a protection dog into danger.
The Original Helfer makes distance learning for German Shepherd protection dogs a successful reality. Desired behavior can be promptly rewarded, and when a dog displays unwelcome behaviors - withholding of the reward provides motivation to return to the task at hand. Trainers and behavioral scientists have proven repeatedly that dogs learn behavioral patterns quickest in sets of three. Use of the Original Helfer, preloaded with three rewards, helps strengthen the reinforced behavior even further.
The Original Helfer is Available For Sale Now
This amazing innovation in remote behavior modification from Kraftwerk K9 is now being offered at the exclusive price of $395 to the first 100 buyers. Act soon to order your Original Helfer and improve your handling skills. The company who has brought you the best German Shepherd puppies for sale in America since 1987 once again brings an effective product to the market for protection dogs. We understand the value of well-trained protection dogs. The Original Helfer will make the training process more efficient and effective than ever before