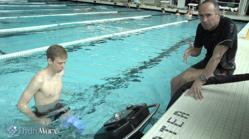 "We don't consider it an alternative to running outside. We consider it as important as running outside."
-Alberto Salazar, Oregon Project Coach
Middletown, Pennsylvania (PRWEB) April 24, 2012
If you are a running enthusiast who likes to stay up to date and learn from the training methods of elite runners like Mo Farah and Galen Rupp, you have to check out our latest creation: http://www.underwaterruntolondon.com/
The Underwater Run to London site was launched to highlight the running journeys of elite distance Coach Alberto Salazar and his Oregon Project Runners, including Galen Rupp and Mo Farah. These London hopefuls are passionate believers and users of HydroWorx pools and underwater treadmills and are changing the way elite runners are training through the use of underwater treadmill technology.
Salazar and the Oregon Project runners rely on water workouts to:

Supplement outside land training with 30-40 minute water runs 4-5 times/week
Safely keep training to prevent de-conditioning if injured
Increase weekly mileage for important competitions without increasing the risk of injury
Create a constant state of active recovery using water's unique healing properties during runs
Be sure to check out the site for insider training videos and to learn how these athletes are gaining a competitive advantage by running underwater. With less than 100 days until the games in London, check back often for frequent updates regarding the Oregon Project runners.
Elite distance runners are rethinking their training workouts, perhaps you should too! Learn how at http://www.underwaterurntolondon.com.
About HydroWorx:
HydroWorx, based in Middletown, Pennsylvania, offers a wide range of underwater treadmill pools, portable underwater treadmills, and peripheral products and services. Over 15,000 athletes and patients a day utilize HydroWorx technology to recover from injuries and health conditions. More information about HydroWorx can be found at http://www.HydroWorx.com.