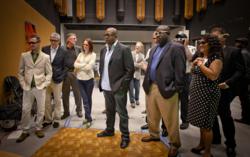 Less than a year out of college I find myself directing projects for the largest studio in NYC and competing for big national jobs. It is surreal to step off your set and see Martin Scorsese working on something across the hall.
Sarasota, FL (PRWEB) April 24, 2012
Ringling College of Art and Design today reported on the completion of the third season of the College's Digital Filmmaking Studio Lab, which featured actor/director Forest Whitaker in the season finale leading question and answer sessions with students, local filmmakers and media following a screening of his Academy Award-winning performance in "The Last King of Scotland."
In the public question and answer session moderated by producer Paul Schiff, Forest stated that, "Honestly, you can make a movie and you can tell a story. It is possible, it's more than possible - you can do it, it's just a question of having the fortitude to push it forward and getting somebody to see it." Of particular interest to Ringling students was Mr. Whitaker's transition from actor to director and what they could learn through his experiences to become better directors themselves.
Ringling College president Dr. Larry R. Thompson said, "Forest provided great insight into the development of character and an actors' need for direction to embrace their character. His enlightened social consciousness and the ongoing commitment of his professional talents to projects addressing pressing societal issues was both instructional and inspirational to Ringling students seeking to make a difference with their work."
"Forest provided an exceptional finale to a third season that also included Elijah Wood, Edward Burns, James Woods and Whit Stillman," said Sam Logan, who with Future of Films cofounder David Shapiro, partnered with Ringling to develop the Digital Filmmaking Studio Lab. "Over the past three years Ringling students have learned from, worked with and have been recruited by Werner Herzog, Bill Paxton, Martha Stewart, Andy Garcia, Paul Schiff, Oren Moverman, Ben Foster and Ed Carroll, among others. The Ringling College Digital Filmmaking Studio Lab is providing our students with industry access on par with, or exceeding, film schools in Los Angeles and New York."
Ringling College class of 2011 Digital Filmmaking graduate Jason Letkiewicz said that, "The skills I learned and the people I became close with during my time at Ringling have been essential to my growth as a director. Less than a year out of college I find myself directing projects for the largest studio in NYC and competing for big national jobs. It is surreal to step off your set and see Martin Scorsese working on something across the hall. There is no question that I have a lot to thank this school for."
The Studio Lab began its third season in November 2011 with director, actor and writer Edward Burns discussing the evolution of the film production and distribution process. Mr. Burns drilled down on the new economics of film with students. His experience shooting, producing and distributing the first feature film to premiere exclusively on iTunes and the lessons learned have provided an interesting new model for aspiring filmmakers. "In due time it's my belief that direct to consumer sales is how a lot of people - not only filmmakers - are going to be getting their art, their work, to the people that want it. You're seeing it now in the publishing world with ebooks, you've seen bands like Radiohead do it and it's only a matter of time before the indie, or specialized, movie business, starts to do that as well," Eddie stated in an interview with Ringling students.
Academy Award® and Emmy®-nominated actor James Woods was the next Studio Lab luminary. His extensive experience in film and television and insight into the actor/director relationship, coupled with his extraordinary capabilities as a communicator, was instrumental in detailing for students how to provide the direction actors are looking for. In an interview James stated that "I was immensely impressed with the direction in which they (Ringling) were going, the level of work and the almost serene confidence of the students and I realized that this was a place that was more of a halfway point between the academic world and the professional world. It was clear that they (students) were going to be moving immediately into a professional environment."
Acclaimed actor Elijah Wood came to the Studio Lab in January. Dr. Thompson commented, "He has been the central lead in an impressive roster of fine film and television projects and his unique viewpoint as one of the younger actors to have worked with our students. Having 'grown up' in the business, Elijah has an incredible amount of experience for someone his age and a natural empathy that synched so well with our students. The interaction was truly engaging to witness, especially as Elijah and Digital Filmmaking Department Head Bradley Battersby gave mutual notes and feedback to students when reviewing their senior projects in the Master Class."
The Digital Filmmaking Studio Lab featured writer and director Whit Stillman in February. Whit has written, directed, and produced four films and his first, "Metropolitan," received an Oscar nomination for best writing. Whit previewed his upcoming feature, 'Damsels in Distress', before commercial release. "Whit captures the rise and fall of societal trends eloquently and dissects the culture and characters existing within," said Dr. Thompson. "His facility with story and ability to develop the depth of his characters is integral to the foundation of exceptional filmmaking. His control of the creative process – from original idea to writing and character development to casting and directing the film – was enlightening to our students in this era of specialization. Also Whit's direction to focus on big stories that have wide appeal - versus getting too specific and minimizing your potential audience - was of surprising yet significant benefit to all our students."
During the academic year Ringling students across all disciplines got to work on feature films shot in and around Sarasota - Anna Paquin's movie "Free Ride" and Harmony Korine's film "Spring Breakers." According to Ringling Digital Filmmaking Senior Andrew Burhoe, "Working with Anna Paquin had to be one of best experiences I will ever have. Who can say 'Oh I had to drive Anna Paquin to CVS and along the way we talked just about everything'? With Korine in town, I got a rare chance to see him direct. It was amazing to observe another director do what they do. To see him like that was something I can honestly say would not have happened had it not been for Ringling College. Overall I can leaving here has set me on a course I know will only lead to bigger things."
Ringling College graduate and Moonbot Studios co-founder Brandon Oldenburg recently won an Oscar at the 84th Academy Awards® for the film 'The Fantastic Flying Books of Mr. Morris Lessmore,' on which nineteen Ringling graduates and one intern worked.
"We have had an exceptional year, and I thank our visiting luminaries and Sam Logan and David Shapiro of Future of Films for facilitating their visits; and the Ringling Founders Club, PNC Wealth Management, Sarasota Magazine and Biz941 for supporting the program," concluded Dr. Thompson.
The Ringling College Digital Filmmaking program – is ranked as one of the top 25 film schools in the world by The Hollywood Reporter.
About Ringling College of Art and Design
Ringling College of Art and Design is a private, not-for-profit, fully accredited college offering the Bachelors of Fine Arts degree in 13 disciplines: Advertising Design, Computer Animation, Digital Film-making, Fine Arts, Game Art & Design, Graphic & Interactive Communication, Illustration, Interior Design, Motion Design, Painting, Photography & Digital Imaging, Printmaking, and Sculpture, and a Bachelor of Arts degree in the Business of Art & Design. Located in Sarasota on Florida's Gulf Coast, the picturesque 48-acre campus now includes more than 110 buildings, and enrolls 1,368 students from 42 states and 53 countries. It is recognized as being among the best and most innovative visual arts colleges in the United States as well as a leader in the use of technology in the arts. http://www.Ringling.edu
About Future of Films, LLC
Future of Films leverages unique opportunities in media production and content as the old models rapidly change, focusing on convergences between traditional and new media. Co-founders Sam Logan (Sarasota) and David Shapiro (New York) are bringing to bear their extensive relationships in the film and TV industry to provide for rapid development of the Ringling Digital Filmmaking Studio Lab, a groundbreaking project that combines education with film development. The Studio Lab is designed to provide Ringling College of Art and Design students have hands-on experience with top-tier directors, producers, writers, and cinematographers as well as to help Sarasota become an integral part of the film industry.
###