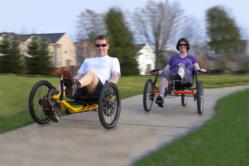 "It's small businesses like ourselves that will rebuild the American manufacturing backbone. Just in the last year we've doubled our warehouse size, added 6 new employees and increased our sales 41% - who says manufacturing is dead in Michigan?"
Grand Rapids, MI (PRWEB) April 23, 2012
TerraTrike, the worlds largest manufacturer of recumbent trikes for adults is expanding into a new state of the art facility to handle their unprecedented growth. Beginning 16 years ago from a sketch on a cocktail napkin, they are an American entrepreneurial success story who have posted over 40% growth in each of the last 3 years - even in a climate of layoffs, closings, high fuel costs and recession.
"It's all we can do just to manage growth at this point," states CEO Wayne Oom. "With gas prices continually rising, people looking for more comfortable exercise options and 10,000 adults retiring a day, our phones are ringing off the hook - as well as our dealers."
They are projected to top 5 Million in sales this year and increase their market 100%.
"It's small businesses like ourselves that will rebuild the American manufacturing backbone," adds Marketing Director Jeff Yonker. "Just in the last year we've doubled our warehouse size, added 6 new employees and increased our sales 41% - who says manufacturing is dead in Michigan?"
In celebration of their recent move, they are hosting a ribbon cutting ceremony with the help of the Grand Rapids Chamber of Commerce and local officials and preceding with an Open House on Friday April 27th from 3-8pm EST. The general public is invited to come on Saturday the 28th from 11am-3pm for a Grand Opening featuring lunch, vendors, factory tours and a group ride that will feature over 80 TerraTrikes all riding down the White Pine Trail.
For additional information on WizWheelz or TerraTrikes, contact Jeff Yonker, Marketing Director, at (800) 945-9910 or visit http://www.TerraTrike.com.
ABOUT WIZWHEELZ INC. - WizWheelz Inc. is headquartered in Grand Rapids, Michigan and is the largest manufacturers of recumbent trikes in the world. The TerraTrike brand has been manufactured for over 16 years and they maintain one of the industry's most extensive sales and support systems, with over 200 distributors and dealers in multiple countries. Product and distributor information is available on the TerraTrike website at http://www. TerraTrike.com, or by calling (616) 455-5988 or 1-800-945-9910.