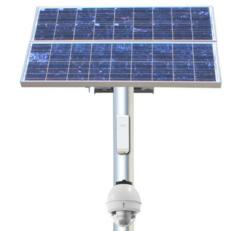 "The most common application of our new solar units is at construction sites, where power is often unavailable...construction managers now have a ready-to-install option for monitoring and time-lapsing any job site." -Dave Abrams, TrueLook CTO
Winston-Salem, NC (PRWEB) April 23, 2012
TrueLook, a leading provider of professional webcam systems, announces a new solar-powered option for its webcam customers. Solar technology now allows TrueLook webcams to function in remote locations, or wherever power is difficult to access. The solar webcams are especially effective when combined with cellular internet connectivity, allowing the webcams to broadcast from virtually any outdoor location.
"We developed solar capabilities as a direct response to our customer needs," said Dave Abrams, Chief Technology Officer at TrueLook. "The most common application of our new solar units is at construction sites, where power is often unavailable. Since all TrueLook products are shipped preconfigured and pre-tested, construction managers now have a ready-to-install option for monitoring and time-lapsing any job site."
Each solar unit is able to power either a fixed-position or PTZ (pan-tilt-zoom) camera, depending on the desired camera functionality. Batteries store solar power during the day, ensuring that cameras can be operational 24 hours per day, 365 days per year. All components are professional grade, with a rust-proof aluminum build and rugged design to withstand the outdoor elements. The solar webcam units can mount to any flat surface or to any pole 4.5 inches or greater in diameter. Optionally, the units can ship with their own pole included.
Customers who purchase solar packages may also be eligible for a 30% federal income tax credit, thanks to a solar energy tax credit that currently extends until 2017. The credit can be claimed on form 3468.
For more information about TrueLook's solar-powered webcams, including component details, visit http://www.truelook.com/construction/solar
About TrueLook: TrueLook is the world's premier interactive webcam system, specializing in destination, hospitality, event-marketing, and construction webcams. For over 15 years, TrueLook has been deploying cameras on every continent of the globe - including the NASA camera on the South Pole. This world wide network of IP-based cameras has captured over 2.2 billion media clips, delivering them to over 100 million users with a 99.999% service up-time. TrueLook has also been a pioneer in IP camera technology, having built the world's first pan/tilt/zoom (PTZ) network camera.
###