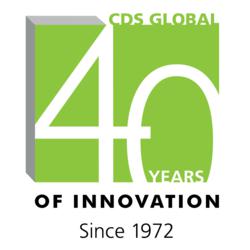 Our 40th anniversary is a time to reconfirm our passions and to approach advancement with renewed vigor and vision
Des Moines, Iowa (PRWEB) April 23, 2012
In 1971, Des Moines-based Look magazine closed its doors – but years later, a thriving business remains. That business is CDS Global, which was founded by a group of Look magazine employees and was built around an innovative Look magazine computer system.
Four decades later, CDS Global will kick off a large-scale, year-long celebration on Friday, April 27 at 11:30 a.m. CDT at its corporate headquarters at 1901 Bell Avenue in Des Moines. Chairman and CEO Malcolm Netburn will address the company's 2,500 employees across the globe via a live video feed.
"We are very proud of CDS Global's rich legacy, but even more so, we are proud of our proven commitment to continuously innovate in order to best serve our customers' needs," said Netburn. "Today, businesses are bearing witness to a rapidly changing world, one where legacy alone does not ensure continued endurance. Our 40th anniversary is a time to reconfirm our passions and to approach advancement with renewed vigor and vision."
In addition to Netburn's address, the event will include a visit from the company's founder, Donald F. Ross, as well as Executive Vice President and General Manager of Hearst Magazines John P. Loughlin and Hearst Magazines Senior Vice President, Chief Information Officer Debra Robinson. CDS Global is a wholly owned subsidiary of Hearst Corporation, one of the nation's largest diversified media and philanthropic organizations.
As CDS Global marks its 40th anniversary, the organization has retained its position as the top fulfillment provider to the magazine industry in North America, delivering both traditional print subscription solutions as well as digital authentication and entitlement for online and app-based publications. Through the acquisition of Council Bluffs-based PayDQ in 2011, the company is set to become the premier provider of integrated bill presentment and payment solutions, increasing its footprint in the nonprofit, utility and consumer product industries. Some of the nation's most recognized organizations are part of its family of clients, including the American Heart Association, American Red Cross, Highlights for Children and UniSource Energy, as well as Des Moines' own Meredith Corporation and August Home Publishing.
"The magazine industry is in a transformational period, and we are excited to see CDS Global driving significant technology advancement and change," said Meredith Chairman and CEO Stephen M. Lacy. "As a long-time partner and client of CDS Global, we value their collaborative and innovative approach."
"I am honored to join CDS Global in celebrating its 40th anniversary," said Frank Cownie, mayor of Des Moines. "As more and more technology companies look to the Des Moines metro area as a place where their business can thrive, CDS Global remains an example of the talented workforce and progressive technologies that contribute to the success of our great city."
About CDS Global
For 40 years, CDS Global has been a leading provider of outsourced business solutions to multiple industries, delivering an array of innovative and flexible eCommerce, order management, fulfillment, payment processing and marketing services. By maximizing the value of data, CDS Global effectively manages its clients' interactions with their customers and creates a positive impact on their bottom line.
CDS Global is a wholly owned subsidiary of Hearst Corporation, one of the nation's largest diversified media companies. Corporate headquarters are located in Des Moines, Iowa, with offices across Iowa and in Arizona, New York, Pennsylvania, Texas, Australia, Canada and the United Kingdom. Learn more at http://www.cds-global.com.