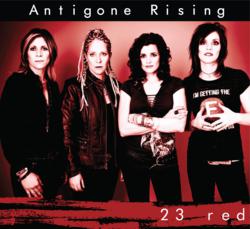 wow Antigone Rising and the girls blew me and our whole team away at UDetroit on Friday. One of my favorite new bands-Brian Pastoria, owner/ Harmonie Park Media
New York, NY (PRWEB) April 24, 2012
Antigone Rising returns to The Stone Pony in Asbury Park on Friday, May 11. The band most recently traveled to Israel and The West Bank as Arts Envoys, a cultural initiative sponsored by the U.S. Department of State. During the trip, Antigone Rising performed in Jerusalem, Tel Aviv, Ramallah and other regional cities, leading community outreach workshops and making music with Israeli and Palestinian musicians. Traveling through the region , Antigone Rising demonstrated that all cultures appreciate and connect to the language of music.
Antigone Rising exploded into the spotlight in 2005 becoming the first band on Starbuck's Hear Music (Lava Records) with their best selling debut LP. A lineup change brought Nini Camps to the band, whose voice blends perfectly with the signature style soaring three part harmonies of founding sisters Kristen Henderson (bass /vocals), Cathy Henderson (lead guitar /vocals) and Dena Tauriello (drums), that Antigone Rising has become known and loved for. While the notions of luck, fate, chance and destiny are not new in popular music, their themes abound in the latest Antigone Rising CD, "23 Red. " The band has opened for such acts as The Rolling Stones, Aerosmith, Joan Jett and The Blackhearts, Rob Thomas and most recently The Bangles.
Opening for Antigone Rising is Lisa Bianco And The Fury. Finding a balance between the visceral and intellectual is one of the trickiest things to pull off in music, but Lisa Bianco manages to do just that. Her songs are evocative and inventive, pulling alternative rock stylings of The Joy Formidable and The Yeah Yeah Yeah's combined with pop sensibilities of Blondie and The Bangles.
The Stone Pony | 913 Ocean Ave | 732-502-0600
Doors: 7:30 pm
showtime: 9 pm