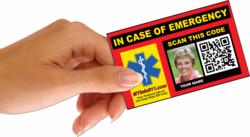 "4Th Leading cause of death in the United Staes is Adverse Drug Reactions or ADR's due to first responders and doctors not having the appropriate medical information." American Medical Association
Palm Coast, FL (PRWEB) April 27, 2012
MyInfo911 congratulates the Girl Scouts organization on its centennial anniversary. It is hard to imagine that this group, founded by Juliette Gordon Low in 1912, with only a handful of young girls in Georgia, has grown to over 2.3 million strong in the US and over 3.2 million members worldwide.
MyInfo911 learned that this organization is widely recognized as the preeminent developer of leadership skills in young women. According to the Girl Scouts of Northern Illinois, "girls develop leadership by participating in age appropriate activities that enable them to discover their values, skills, and the world around them".
As time passed, MyInfo911 discovered that Scouting activities have expanded from mainly cooking and other domestic activities, to a much more diverse program that includes camping, hiking, water and other sports, extensive field trips, interaction with wildlife, and even such rigorous pursuits involving use of firearms and horseback riding. Clearly, this is not your "grandmother's" Girl Scouts.
Unfortunately, the likelihood of more accidents and illness due to increased participation in more physically challenging activities, and the fact that Scouts are often away from home when these emergencies take place, present a growing concern for parents and leaders of the participants. MyInfo911 learned that Scout leaders are required to keep extensive records on all their charges, including the medical history and emergency contacts for each girl. The work involved to gather this information and make sure it is updated as needed, as well as the sheer volume of paperwork involved, has made this task burdensome to say the least.
MyInfo911 emergency ID cards, stickers, key tags, and other products have been developed to solve this problem.
Voluminous records can be replaced with MYInfo911 emergency ID cards, stickers, and keychain tags. These can be carried by the Scouts themselves or by the leaders and can be easily transported to any locale.
In the event of a medical emergency, the state of the art Quick Response (QR) Code, which is featured on MyInfo911 emergency ID products, can be scanned by any smart phone allowing first responders virtually instant access to the victim's medical history, including blood type, allergies, medications, and special conditions such as asthma, diabetes or seizures. This helps emergency personnel, sometimes the leaders themselves, more effectively administer treatment that is not only timely but also based on the specific medical needs of the victim. Instant notification of next of kin is also provided by scanning the QR Code. For added peace of mind, MyInfo911 has created a convenient but secure system that allows only the parent or guardian of the Scout to be able to input and update as needed all pertinent information on their child.
About MyInfo911
Started in October 2010, MyInfo911 provides emergency identification cards that use QR codes to provide pertinent medical history information to first responders and other medical providers. The Palm Coast, Florida based company's cards have the person's picture, name and QR code on the front and the person's name, year of birth, emergency contact, blood type, allergies and specific medical conditions on the back. For more information visit http://www.myinfo911.com.