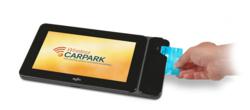 WCP's tablet solution can be implemented for only a few thousand dollars; making automated revenue control affordable for all event parking operations
Plainville, CT (PRWEB) April 27, 2012
Today, WirelessCarpark.com, Inc. (WCP) introduced a new tablet edition of their cloud based event parking revenue control system. WCP's tablet version runs on Microsoft Windows operating system(s) on various touchscreen devices, netbooks, or laptops. Created as a lower cost solution for parking operations not needing the full mobility of WCP's traditional handheld system; the tablet edition can be used as a standalone system or in conjunction with handheld units. Ideal for fixed locations with parking booths; WCP's tablet system accepts cash and credit card payments while providing the ability to issue and accept passes or permits. The new tablet application provides all the speed, audit control, and reporting power of the Wireless Carpark system for a modest capital investment.
"Our tablet solution can be implemented for only a few thousand dollars; making the WCP system affordable for event and flat rate parking operations looking for automated revenue control without excessive upfront costs and infrastructure. Used alone or together our handheld units, the tablet offers valuable flexibility to WCP's product line." states John Beyer, President of WirelessCarpark.com, Inc.
WCP selected the durable Motion CL900 Touchscreen Tablet as the standard hardware for their newest variation of their event parking software. Chosen for its ruggedness, speed, and large 10 inch screen; the CL900 is designed to withstand the typical wear and tear and environmental challenges common to event parking and the parking industry.
Wireless Carpark's Event Parking Management System provides revenue control and global reporting for flat rate and event parking operations. Utilizing cloud-computing technology, the WCP system is licensed by device, not location, and communicates over standard Wi-Fi or a cellular network. The system does not require a local server or expensive communication infrastructure; keeping costs down. WCP's architecture and design allow clients to transfer licensed devices to alternate locations without paying for additional hardware, infrastructure or licensing fees.