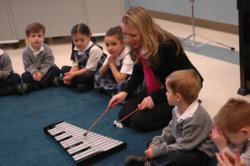 We want to encourage as many people as possible to share in the many benefits of education in the Catholic school environment.
Lemont, Illinois (PRWEB) April 24, 2012
Everest Academy of Lemont announced April 20, 2012 that the Stan Pytel family of Orland Park was the first to receive a $1,000 grant to be used toward next year's tuition. The Pytel family applied and qualified for the tuition grant, which offers tuition assistance to families transferring to the private Catholic School from any non-Catholic school. The Pytel's have three children enrolling for the upcoming school year.
According to Dr. Coleen Kelly Mast, Advancement Director at Everest, there are still grants available for qualifying families. Everest Academy is offering a limited number of $1,000 tuition grants for families that are new enrollees in the 2012-2013 school year. The program, "Come Home to Catholic Schools," which is currently in effect during spring enrollment, was influenced by the recent "Catholics Come Home" campaign of the Archdiocese of Chicago and the Diocese of Joliet. The grant is in addition to the school's new tuition rates which reflect both today's economy and the desire of families for academic excellence and character development.
Eligibility for the grant includes any family that is new to the school and enrolling two or more children in Everest Academy with at least one of the children entering grade three through eight. Eligible students must have attended a non-Catholic school for the prior school year and meet the regular admissions requirements of Everest. "Whether a family is new or 'coming back' to Catholic schools, we want to encourage as many people as possible to share in the many benefits of education in the Catholic school environment," explained Dr. Joel Akroush, School Parent and Everest Board Member.
Research from the National Center for Educational Statistics of the U.S. Department of Education found that private school students scored higher on standardized tests and had more demanding graduation requirements. The report entitled, "Private Schools, a Brief Portrait," said that students who had completed at least the eighth grade in a private school were twice as likely as other students to graduate from college as a young adult. The NCES study also revealed that students in private schools are much more likely than others to take advanced-level high school courses.
Everest Academy is an independent Roman Catholic school in Lemont educating children from preschool through eighth grade. The teachers and staff are dedicated to forming the whole child by providing the highest level of academics, by building strong character, and by preparing generous leaders ready to serve the community. If you would like to learn more about Everest Academy's unique approach to education, please contact the Admissions Office or visit our next open house. Everest will be holding open house events on Wednesday April 25th and May 23rd for interested families.