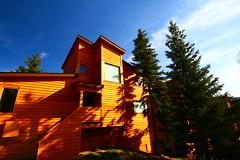 Keystone, CO (PRWEB) April 24, 2012
SummitCove Vacation Lodging has added four new properties to its Keystone, Colorado rental program. SummitCove is a property manager for approximately 300 vacation rentals located in Summit County. The new properties have been introduced to the company website, and are currently available for rental as early as the summer season of 2012.
The first property to join SummitCove this spring is Starfire1995, located in the West Keystone neighborhood. This three bedroom property is located on the in the popular Starfire complex. The property is conveniently located at the end of the Starfire complex, and offers plenty of privacy. Proximity to the complex entrance means that guests of this complex will enjoy a short walk outside and to the free Keystone shuttle. The property is equipped with covered parking, a private grill, fireplace, forest views, ski storage, private laundry, access to a common area hot tub and sleeping capacity of eight.
Buffalo Lodge 8341 is a beautiful one bedroom, one bath property located in River Run Village at the center of the resort. This corner property sleeps four, and includes slope views and easy access to activities such as skiing and snowboarding in the winter, and mountain biking, scenic gondola rides and hiking in summer.
Expedition Station 8573 is a south facing two bedroom, two bathroom property. With a sleeping capacity for six, brand new carpets, and a view overlooking the pool, guests of this property will enjoy a prime location in River Run Village. This Expedition Station property offers guests of Keystone advantages of value, location, views, and comfort.
Tennis Townhomes 1326 is a beautiful and spacious town home in the North Keystone neighborhood. This condo comfortably sleeps eleven. With comfort for a large family or multiple families traveling together, this property includes three full bathrooms and plenty of living area space. Cable and high speed internet are included to give guests all the comforts that they would enjoy at home. This condo is equipped with new appliances including a private grill and a patio overlooking the slopes of Keystone Resort. New bedding and updated furniture round out recent updates at this rental property.