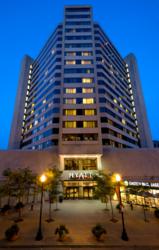 We look forward to impressing our guests with an enhanced overall experience
Louisville, KY (PRWEB) April 24, 2012
Hyatt Regency Louisville announced today that the largest renovation in the hotel's 34-year history has now been completed. The $5.8 million transformation was necessary to meet the demands of the downtown Louisville hotel's many business meeting and convention attendees.
"We are thrilled that this renovation is now complete and we look forward to impressing our guests with an enhanced overall experience," said Donna Marquez, general manager, Hyatt Regency Louisville. "This transformation has allowed us to evolve into an unparalleled meeting and convention destination, a relaxing place for our loyal business travelers to network, and a new, trendy destination for dining or lounging."
Architectural Changes to the Louisville Hotel The new front entrance to the hotel is located on Fourth Street, featuring a canopy where guests are offered valet service. The lobby also underwent significant changes for an impressive new look. Changes include a new front desk, featuring three separate "pods" used for check in and check out. The backdrop to the front desk is an artistic glass wall, designed by the President of local Louisville business Architectural Glass Art, Kenneth von Roenn.
Along with the front desk, the lobby features a new look to the elevator bay, new furniture, and all new flooring. Another key feature to the lobby renovation is a brand new Hyatt Stay Fit Fitness center adjacent to the lobby. The new fitness center has doubled in size to 1,200 square feet and features state of the art equipment.
"We look forward to welcoming back former guests and inviting new customers to experience the new Hyatt Regency Louisville" said Dave Phillips, senior vice president, field operations for Hyatt. "Our customers expect first class services and with these exciting renovations, we should continue to exceed their expectations."
Sway: A New Louisville Dining Destination
The centerpiece of the Louisville hotel's renovation is the restaurant and lounge, which has been completely transformed into a new, modern three meal restaurant named Sway (short for Southern Way). Based on the farm to fork concept, the Louisville restaurant brings Southern fare, inspired by the rich heritage of the region downtown. The seasonal menu highlights the flavors of Southern kitchens, incorporating the freshest ingredients from local farms, dairies and butchers.
Sway's vibrant bar allows guests open-air access to the excitement of Louisville's trendy Fourth Street via glass walls that slide completely open. With a prime location adjacent to Louisville's business community as well as a wide array of food and beverage options, Sway promises to be a great new spot for networking.
Hyatt Regency Louisville has installed innovative green infrastructure, including Pervious Pavement surrounding the hotel, to allow storm water to soak through and into the soil, as well as Infiltration Drains, which will capture rainwater and drain it directly into the ground.
About Hyatt Regency Louisville
Seamlessly integrated into the city's thriving central business district – with a direct connection to the Kentucky International Convention Center – Hyatt Regency Louisville delivers impeccable service with a gracious dose of southern hospitality. Hyatt Regency Louisville features 393 guestrooms and suites, more than 20,000 square feet of function space including our newly renovated 9,280 square foot Regency Ballroom, Sway restaurant, an Einstein Bros Bagels and a StayFit@Hyatt gym. Louisville's premier dining and entertainment district, Fourth Street Live!, is located right next door to Hyatt Regency Louisville, providing multiple options for guests.