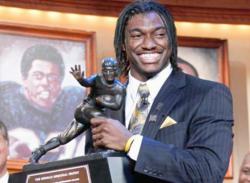 (PRWEB) April 23, 2012
Heisman Trophy winner Robert Griffin III has broken off with some more bread as he has signed a big endorsement with Subway, according to Terry Lefton of SportsBusiness Daily. Prior to the NFL Draft, Robert Griffin III has signed product endorsements with some major corporations such as: EA Sports, Adidas, Castrol Oil and most recently Subway.
Robert Griffin III set the bar high early on in his career winning with the Big 12 Conference Offensive Freshman of the Year. Griffin III (popularly known as RG3) went on to win the Heisman Trophy on December 10, 2011, becoming the first player from Baylor University to win the prestigious award. His accomplishments don't stop there as he was the Associated Press College Football Player of the Year winner, 2011 Davey O'Brien Award winner, 2011 Manning Award winner, 2011 Consensus All-American ,2008 Big 12 gold medalist (400m hurdles), and 2008 Track & Field All-American (400m hurdles).
His most recent signing is no short of his college achievements as he joins prestige's athletes in the Subway endorsement club. Subway has notably signed: Blake Griffin, Olympians Michael Phelps, Apolo Anton Ohno and Nastia Liukin, Ryan Howard of the Philadelphia Phillies, New York Yankee CC Sabathia, Michael Strahan of the New York Giants and Alabama running back Mark Ingram.
The signing with Subway can further open the doors for Robert Griffin III as we saw a handful of NFL players, including New Orleans Saints quarterback Drew Brees, New York Jets quarterback Tim Tebow, and Hall of Fame running back Eric Dickerson appear on the Oct. 4 episode of NBC's weight-loss competition series The Biggest Loser.
Analyst expect for Robert Griffin III to be one of "The Biggest Winners" on Thursday, April 26, in the 2012 NFL Draft as he has been projected to be the #2 pick by the Washington Redskins, making him their franchise quarterback they've been seeking for years.
Written by: Anthony Fernandez
About AthletePromotions.com
AthletePromotions is a sports marketing firm and athlete booking agency securing thousands of athletes for speaking engagements, corporate appearances, product endorsements, autograph signings, spokesperson campaigns, celebrity golf tournaments, VIP Meet & Greets and more.
Ryan Totka and his team at AthletePromotions assists corporations in booking Robert Griffin III, along with retired and current NFL players for speaking engagements, corporate appearances and VIP Meet & Greets.