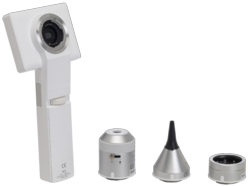 The HORUS System is a an easy to use, multi-discipline scope system designed specifically for Telemedicine
ST. Louis, MO (PRWEB) April 24, 2012
Through an exclusive distribution agreement, JEDMED will be introducing the new HORUS Multi integrated imaging System (MiiS), at the ATA annual meeting in San Jose. This new system, which is designed specifically for Telemedicine, is an easy-to-use hand-held video system used for capturing images of the body. This system utilizes interchangeable attachments making it ideal for mulit-discipline medical applications.
Attachments for ear nose & throat, dermatology, ophthalmology, audiology, women's health, and general examinations are just a few of the potentials of this unique system.
The HORUS System incorporates High Definition (1080p) camera technology and offers multiple video output options for connections to your codec. Still images and videos can also be captured with just the touch of a button and transferred seamlessly to a laptop or PC for store and forward applications.
Each specialty attachment can be quickly and easily changed just by twisting the optic and removing it from the scope handle. This unique feature allows you to have just one system with multiple uses.
Conveniently located controls make the system extremely user friendly. Most functions can be controlled with just your thumb. Illumination is provided by powerful integrated LED's while the 1080p High Definition images are captured and displayed on the full color LCD display.
JEDMED will showcase this new scope at the American Telemedicine Association meeting in San Jose, CA. Please be sure to visit booth 434 or call 314-845-3770 to schedule a demonstration.