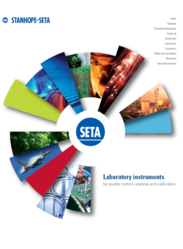 "We are proud and honoured to receive this recognition. The Queens Award is the most prestigious award available for the business community. Success is due to our loyal and hard working team "
(PRWEB UK) 23 April 2012
Established for nearly 75 years the company is a pioneer in the field of quality control testing of products now in daily use by households and business alike. Examples include Petrol, Diesel and Aviation Fuel. The company has also entered new markets in the sustainable bio-fuel sector. 'The next time you fly, fill a car up or maybe take a cruise, the chances are that the fuel will have been tested by a Stanhope Seta instrument to ensure it will work correctly in the engines – wherever you are in the world' comments Giles Verity, Director of the company.
Stanhope Seta's instrument range can now be found in every country in the world, with export sales growing rapidly each year. "Export success comes from not only having the right products but it is just as important to understand your local markets and respond rapidly to customer's needs" says Giles Verity. The company is especially proud to be able to fly the flag for Britain and its manufacturing excellence.
The family run business is based in Chertsey, Surrey and employs a dedicated team of 60 people. All products are designed and built in the UK and represent the very best of British engineering.
In a joint statement, company Directors Giles and Martin Verity said "We are proud and honoured to receive this recognition. The Queens Award is the most prestigious award available for the business community. Success is due to our loyal and hard working team as well as innovative new products. It is a real achievement to receive this award in recognition of everyone's efforts and the success they have brought"