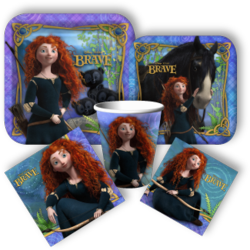 Girls that are impetuous, adventurous, and brave finally have a heroine to call their own.
(PRWEB) April 25, 2012
Adventure loving girls all over the world are looking forward to Pixar Studio's upcoming feature-length animated film, Brave. There has been no shortage of princess movies for young girls to watch and enjoy since Snow White was released by Walt Disney Studios in 1937. Brave is a little different from all of those other movies that have featured princesses as their main characters, though. And those differences are going to create one of the most memorable movie characters that we have seen on the big screen in quite some time.
The story takes place in 10th century Scotland, and features amazing scenery, and some of the most beautiful, lush animation to come out of Hollywood in years. Pixar's lead character isn't dreaming of a prince, or trying to escape an evil stepmother. Instead, Brave's Princess Merida is a character who is known for being fearless and adventurous, as well as, a skilled archer. She rides horses, engages in contests of skill with her three younger brothers, and possesses a fierce independence and strong will. When she inadvertently causes chaos to break out in her kingdom, she is forced to take action, in ways she never dreamed of to restore peace, and calm to the land.
Girls all over the country are already planning their Brave and Princess Merida-themed birthday parties. The highly-anticipated line of Brave Party Supplies will include Brave tableware, Brave party decorations, and fun Brave party favors that will delight all of the guests at a Brave party! The incredible level of interest and excitement about this party theme is a testament to Princess Merida's appeal to young girls. Princess Merida's strength, loyalty, and courage make her a role model for young women of all ages. Girls that are impetuous, adventurous, and brave finally have a heroine to call their own.
Brave Party Supplies are now available from Discount Party Supplies, the internet's premier source of personalized party supplies, themed party packs, party favors, catering supplies and other amazing party items. We offer a strong emphasis on fast delivery, excellent customer service, and fun party products; at Discount Party Supplies, we are dedicated to making our customers' celebrations a success