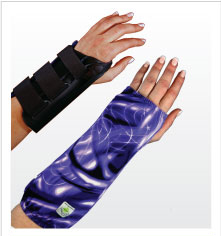 I wanted something that would help alleviate the many challenges I encountered during my own recovery process, like feeling miserable and, to make matters worse, dealing with the infamous New England weather
NATICK, MA (PRWEB) April 24, 2012
re:covers®, creator of the original walking boot cover, today extended its industry leadership announcing the immediate availability of two new lines of products. First, re:covers® announced a new weatherproof walking boot cover, extending the style options from their already popular spandex line. It's available for nearly all major brands of walking boots including: Aircast®, DonJoy®, Bledsoe®, Breg®, Össur®, ProCare® and more. The weatherproof cover provides protection against outdoor elements and can be applied in seconds. re:covers® has a unique auto-lock zip up back for easy application and all re:covers® walking boot styles, including the new weatherproof line, provide a universal fit for right or left leg applications. Owner and founder, Kelly Marchetti added, "We introduced the weatherproof cover in response to customer feedback. Our customers were searching for a uniquely innovative product that protects them from the elements. Our design accommodates both high top and low top brace styles, and it doesn't leave the back part of one's boot exposed as many existing products do."
Also announced today was recovers® expansion into orthopedic arm cast and brace covers with product offerings for below-the-elbow coverage in both weatherproof and spandex styles. The re:covers® arm cast cover spandex line provides fashionable functionality, preventing clothing snags and eliminating painful skin scrapes, while the weatherproof version, the market's first, protects against outdoor elements and inclement weather. Marchetti added, "We introduced the arm cast covers simply because of customer demand. It was always part of the strategic plan and the arm cast cover is a natural transition since all the key elements for impeccable patient-centric designs, high quality products and a great customer experience were already in place. The timing was right." re:covers® protective covers, like the walking boot covers, are suitable for work environments where it is necessary to have the orthopedic device covered for sanitary or safety reasons.
Marchetti created re:covers® after multiple orthopedic surgeries and personal trials and tribulations wearing casts and walking boots. It was her foot reconstruction three years ago when her idea took root. According to Marchetti, "Major foot surgery left me wearing a very cumbersome and unbecoming walking boot and I wanted something that would help alleviate the many challenges I encountered during my own recovery process, like feeling miserable and, to make matters worse, dealing with the infamous New England weather. The limited options in the marketplace were dismal. One-size-fits-all, shapeless, drab covers that didn't do much to keep my boot dry and none were intended to lift anyone's spirits. So I designed my first walking boot cover, developed a business plan and, after a lot of research and field testing, launched re:covers®." Marchetti continued, "Transforming my frustration into something positive dramatically changed my life. I think every patient and every person, for that matter, holds the power to change their perspective as well." Smiling, she said "I'm getting too philosophical. Let's go back to my new products!"
Custom designs and styles are also available for any occasion. Specially designed re:covers® walking boot covers have been made for customers attending weddings, high school sports tournaments, proms, and, most notably, professional athletes including Red Sox players Dustin Pedroia and Jason Varitek who wore their covers during the 2010 MLB season.
Marchetti closed the announcement stating, "Whether you want to keep your orthopedic walking boot or arm cast dry from inclement weather or flash your personal style with our fashionable spandex line, re:covers® has you covered. After all, if you're going to recover, you might as well… Recover in Style. Your Style!"™
About re:covers®
re:covers, LLC, based in Natick, MA, is an orthopedic cover manufacturer that designs and produces the highest quality selection in walking brace and cast covers for orthopedic immobilization devices. re:covers® products deliver solutions for practical concerns and emotional setbacks that can arise during recovery. All of the products produced by re:covers® are patent pending, have been thoroughly tested and fit nearly every orthopedic device manufacturer. All covers are washable and proudly made in the U.S.A. re:covers® products and companion products, including CastCooler®, are currently available directly at http://www.myrecovers.com or at select orthopedic offices, sports medicine clinics, and physical therapists. All re:covers® products ship worldwide.