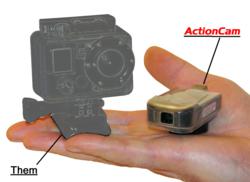 It's hard to believe HD video & audio in such a small package...
Rochester, NY (PRWEB) April 25, 2012
The ActionCam is so small, it can be quickly and easily mounted with magnets (mount included) and it's been tested at over 125 mph! The ActionCam creates a direct playable HD quality video/audio file that can be viewed on the typical media player, such as Windows, VLC, QuickTime, etc. This compact, sleek, robust, versatile action camera enables the capturing of videos that until now either weren't possible or would have required much larger, costly, high-end equipment. Here is a list of just some of the ways people are using the ActionCam. Motorsports, Cycling, Skiing, Climbing/Rappelling, In-Cab Video for the Trucking industry/Professional Drivers, Analysis Tool, Training, Radio Controlled Vehicles, Hunting, Hang Gliding, YouTube creations, just to name a few. Basically any action where you want POV (point of view) video that needs to be hands free and don't want a big, bulky appendage interfering with your activity.
The ActionCam Racer Package combines all the same features as the base package, but it adds an easy to use video-editing software, which also enables the user to overlay valuable information/data onto the video. For example; MPH, RPM, GPS, Time, Laps, etc. This is also a valuable tool when using more than one camera and editing and synchronizing them all together. The final product is a very professional looking video. (sample video)
Interested action minded individuals wanting more information or to purchase should visit PED Products at http://www.ped-products.com or http://www.ped-products.com/actioncam or by calling 315-524-3976