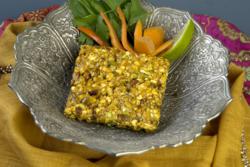 Seattle, Washington (PRWEB) April 23, 2012
GardenChef Paul Company, maker of the world's first savory wellness bar, has partnered with DNA Response, Inc., provider of multi-channel e-commerce, marketing and order management solutions, to develop and launch a new e-store at Buygardenbar.com. The store offers free shipping on qualifying purchases and easy one-click checkout powered by Amazon, as well as detailed information about the product and customer testimonials.
gardenbar® was created by GardenChef Paul Wenner®, inventor of the Gardenburger® and author of the book "Garden Cuisine: Heal Yourself and the Planet through Low-Fat Meatless Eating". Paul Wenner, a forty year vegetarian, has dedicated his life to educating people about healthy food choices. "The idea for a savory bar goes back to when I was travelling around the country demonstrating the Gardenburger," said GardenChef Paul, "I was tired of "sweet" flavors found in all energy or snack bars and wanted something savory I could open and eat. I kept waiting for someone to make one and, when no one did, I decided to do it myself! I've been making them for friends and family all this time."
Now anyone can enjoy gardenbar® in five delicious, original flavors: American, Indian, Italian, Japanese and Mexican. Indian Savory gardenbar® featuring a blend of earthy spices and veggies, grains and roasted cashews; or the Italian Savory gardenbar®, with hints of tomato, onion, basil, olives and garlic, can satisfy any craving on the go.
About GardenChef Paul Company
It is our wish that the whole food products we offer will improve the health of the global community. Our Mission is to become the leading savory bar producing company on the Planet. We will stay focused on the job at hand and endeavor to cultivate wisdom through innovation. While working together in harmony, our Team will define its success by our ability to promote healthy lifestyle choices, relieve human suffering, heal our beautiful Earth, teach our children how to live a healthy life and sustain our Planet for generations to come. We will promote a shift in consciousness about the foods we eat and how they affect our bodies, the animals and the Planet.
"The most amazing thing about our line of gardenbars® is that out of the 20,000 or so people who have tasted our five flavors in the last few weeks, most respond the same way! Wow, these products are great, it is about time someone made a non sweet, savory bar." It's like having an entrée in your pocket." GardenChef Paul® 2012
About DNA Response.
DNA Response, Inc. (DNA) provides turnkey e-commerce, online marketing, and order management services to companies in the $300 Billion direct response market. DNA clients sell products direct to consumers using TV, radio, print catalogs, web and mobile as their sales channels. DNA's ECOM2TM platform utilizes state-of-the art cloud computing technologies and services to improve operational efficiency by reducing transaction costs, eliminating credit card declines, and lowering order cancellations and product returns, while simultaneously increasing online revenue for our clients. DNA provides universal order management for processing orders in real time from all the sales channels with full visibility to the business for the clients. DNA generates incremental revenues and helps build a brand for our clients by providing comprehensive e-commerce and online marketing services.