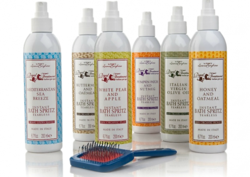 A dog's skin is three- to five-times more delicate than human skin, and we want to make sure that what we use when we cleanse and groom them doesn't hurt them.
New York, NY (PRWEB) April 24, 2012
Beginning June 1, the Royal Pet Club's line of Royal Treatment organic infused grooming products will be adding organic oatmeal to the product line's existing six standard organic ingredients, bringing the total to seven for moisturizing and soothing dogs' sensitive skin. The decision to add organic oatmeal to the mix is in keeping with the company's mission to continually make its products even more soothing to the skin.
"A dog's skin is three- to five-times more delicate than human skin, and we want to make sure that what we use when we cleanse and groom them doesn't hurt," said Prince Lorenzo Borghese, founder of Royal Pet Club and the line of Royal Treatment luxury pet care products.
"We don't use organic ingredients in the Royal Treatment line of products because it's 'trendy,' but because it decreases the chance of an allergic reaction," Borghese says.
The base standard ingredients of the Royal Treatment line include virgin olive oil, Shea butter, honey, chamomile, almond oil, coconut oil, and now oatmeal. For centuries a known skin soother with natural anti-inflammatory properties, oatmeal nourishes, moisturizes, and gently exfoliates to provide a healthy coat that sheds less.
As honey is an important organic ingredient in the Royal Treatment line, Borghese is also working to raise awareness of the vanishing honey bees, whose colonies are disappearing across the U.S. due to a phenomenon called Colony Collapse Disorder, caused at least in part by pesticide exposure that over the past 20 years has claimed nearly one-third of all honey bee colonies in the U.S.
A new study published by Harvard University blames nicotine-containing pesticides called neonicotinoids, developed in 1990 on the vanishing bee population. Now banned or restricted in other nations, these pesticides are still commonly used in the U.S. There is a growing movement to ban neonicotinoids here, but progress is slow. Bayer, the chemical company that produces these pesticides, is working to discredit the research.
The loss of bees means that many common foods that depend on bee pollination are jeopardized. From apples to almonds, pumpkins to strawberries, bees are a critical part of the ecosystem that allow these and many other foods to grow.
"Without bees, human survival is jeopardized," Borghese says. "We need to act now before the damage worsens."
On June 1, when Royal Pet Club launches its new organic oatmeal injected line of products, many of the company's most popular fragrances that have been out of stock in 2012 will become available again as well, including Chamomile and Shea Butter, Almond and Shea Butter, Italian Milk and Vanilla, Lavender and Cashmere.
Borghese, a relentless animal activist who travels the world promoting animal welfare programs, lends a welcome voice to a multitude of charitable organizations whose mission is to improve the quality of life for the planet's animal population.
He has also teamed with Animal Aids' veterinary partners for low-cost spay and neuter services in low income areas throughout the United States. Borghese's Royal Pet Club donates $2 from every new customer purchase and five percent of profits from Royal Treatment pet care products to support a spay/neuter program throughout the country.
To learn more about Royal Treatment and Royal Pet Club visit http://www.royalpetclub.com. To learn more about the Prince, click here.
About Prince Lorenzo Borghese and Royal Pet Club:
Prince Lorenzo Borghese, founder and president of Royal Pet Club and Royal Treatment Italian Pet Spa, is passionate about the well being of animals everywhere. His line of pet-friendly organic products were originally created for his beloved Black Lab, Belle. For nine consecutive years, Royal Treatment has been the most successful pet line on the HSN shopping channel.
A vocal advocate of spaying and neutering programs, Borghese donates five percent of Royal Pet Club profits plus $2 for every new customer to Animal Aid to support spay and neuter programs across the U.S. Through this program, families unable to afford the cost of having their dog spayed or neutered will be able to have the procedure done for free by a top veterinarian in their community.
Borghese's line of Royal Treatment products were developed to support pet wellness with premium, natural dog shampoos, conditioners, and other organic pet grooming supplies.
Borghese's Royal Pet Club is the online destination for the Royal Treatment line's natural pet spa and wellness products. Made from the finest organic ingredients and fragrance oils, Royal Pet Club's pet grooming products have been developed with the help of leading cosmetics manufacturers, world-renowned veterinarians, and other pet experts from around the world. Formulated in a cosmetics laboratory on the outskirts of Tuscany, Italy, all Royal Treatment grooming products are pH balanced for pet's sensitive skin.
Borghese has worked with numerous animal welfare organizations including North Shore Animal League, the ASPCA and Animal Care and Control of NYC. He is co-founder of NYC4ACC, a group of young professionals who organize fundraisers for this city shelter, and an ambassador to the American Humane Association.
Borghese recently joined forces with Karen Talbot to form Animal Aid of the United States. This not-for-profit is currently planning an epic adoption caravan and animal awareness event to take place in July of this year.
For more information, visit the Royal Pet Club website, or email John Falkenberg.