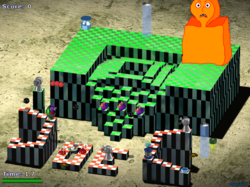 The only bosses I want to see are the ones in the game!
Sunnyvale, CA (PRWEB) April 25, 2012
Actual Entertainment, the granddaddy of independent game developers, is pleased to announce development has started on Gubble 3D, the long awaited sequel to the classic international hit PC, IOS and Playstation game, Gubble. Starring Gubble D Gleep, the lovable purple alien character, Gubble has charmed and puzzled countless hardcore and casual gamers of all ages since 1996. Now Actual Entertainment is looking to bring back that much loved fun in a modern 3D format, with a unique never before seen twist for video game fans.
"With Gubble 3D we're single-handedly bringing back the maze game category," says Franz Lanzinger, President of Actual Entertainment. "If you spent too many quarters on arcade maze games in the early eighties, then you will absolutely love Gubble 3D, our modern sequel to Gubble." The twist is a special opportunity for fans to participate in the design process of the game.
"We decided to go through the crowd funding website Kickstarter because we can't wait to make Gubble 3D the right way: together with our fans" stated Lanzinger. "This allows us to develop and self-publish on a larger scale while retaining our passionately guarded independence." Direct input into the design, alpha and beta copies, and a plethora of behind the scenes and exclusive materials are just some of the perks being offered.
Gubble 3D is the brainchild of Actual Entertainment, a unique collective of experienced industry veterans from the likes of Atari, Tengen, Namco, Midway Games, and Electronics Arts. Consisting of Franz Lanzinger, Eric Ginner, Mark Robichek, Steve Woita, Karl Anderson, Dave Ralston, Paul Barton, and Seppo "Zep" Hurme", their portfolio includes a large cache of well known games adored by fans the world over. Arcade classics like Crystal Castles, Toobin', Paperboy, Cyberball, 720, and Rampart, and console classics including Tengen Ms. Pac-Man, Sonic Spinball, Maximo, Krazy Kreatures, and Championship Pool. Ginner and Robichek were also former world record holders of the games Robotron and Frogger respectively, both featured in Life Magazine in 1983. As programmers they now bring their considerable playing experience to game design, and now today's game players are being given the chance to do the same.
Actual Entertainment is also seeking crowd funding to allow the studio to remain independent. "I just want to make good games. With Kickstarter's help we can concentrate on making games our way. The only bosses I want to see are the ones in the game!" says Steve Woita, best known for creating the classic Quadrun, the first game featuring speech synthesis on the Atari 2600.
Gubble 3D is a mind-bending action puzzle game where the player stars as Gubble D Gleep, a lovable purple space alien with a funny voice. Gubble loves taking things apart, using tools to remove screws, nails, bolts and other hardware while avoiding enemies in game play reminiscent of Crystal Castles. In Gubble 3D, Gubble D Gleep finally fights back against the evil Space Pirates who first kidnapped him in the original Gubble game sixteen years earlier.
Gubble 3D is slated for a 2013 release on PC, Mac, and IOS for iPad.
Gubble and Actual Entertainment are trademarks of Actual Entertainment, Inc. All other trademarks are property of their respective owners.
About Actual Entertainment
Actual Entertainment, Inc. is a small independent game development studio and publisher, formed in 1996 and based in Sunnyvale, California. For more information about Actual Entertainment and Gubble visit http://www.gubble.com.