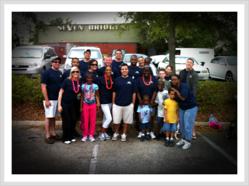 "The ALS Association is a fantastic organization committed to finding a cure, and it's an honor for Foundation Financial Group to support it," said Senior Loan Officer Amber J. Altman.
JACKSONVILLE, Fla. (PRWEB) April 27, 2012
A team of employees from Foundation Financial Group's Jacksonville regional center, located at 225 Water St., Suite 2100, participated in a Walk to Defeat ALS event benefiting the ALS Association, Florida Chapter. Foundation Financial Group employees volunteered their time at the event and made a monetary donation to the organization.
"Amyotrophic Lateral Sclerosis is a horrible disease that can strike anyone," said Senior Loan officer Amber J. Altman. "The ALS Association is a fantastic organization committed to finding a cure, and it's an honor for Foundation Financial Group to support it."
About the ALS Association
Established in 1985, the ALS (Amyotrophic Lateral Sclerosis) Association is the only non-profit organization fighting Lou Gehrig's Disease on every front. By leading the way in global research, providing assistance for people with ALS through a nationwide network of chapters, coordinating multidisciplinary care through certified clinical care centers, and fostering government partnerships, the Association builds hope and enhances quality of life while aggressively searching for new treatments and a cure. As the preeminent ALS organization, the association leads the way in research, patient and community services, public education, and advocacy. The organization gives help and hope to those facing the disease. The Association's nationwide network of chapters provides comprehensive patient services and support to the ALS community. The mission of the ALS Association is to lead the fight to cure and treat ALS through global cutting-edge research, and to empower people with Lou Gehrig's Disease and their families to live fuller lives by providing them with compassionate care and support.
About Foundation Financial Group
Foundation Financial Group, one of the nation's fastest-growing financial services companies, specializes in mortgage lending, property and casualty insurance, life insurance, retirement services, personal taxes and corporate tax services. Foundation Financial Group operates seven regional centers as well as a branch network of retail storefronts across the Midwest. Foundation Financial Group offers mortgage refinancing and first-time buyer lending through traditional financing, as well as Federal Housing Administration and other government-backed home loan programs. Foundation Financial Group enjoys an A+ rating from the Better Business Bureau, the highest accreditation the BBB gives, and an industry-leading Federal Housing Administration compare ratio. For more information, call 866-334-1001 or visit ffg.com.
For additional information, interview and image requests, contact The AXIA Public Relations Firm at 866-999-2942, ext. 700.