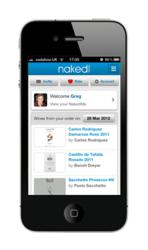 (PRWEB UK) 24 April 2012
The UK's fastest growing online wine retailer Naked Wines has just released a new, unique iPhone app, offering members personalised tasting notes, video content of all of the wines they've ordered plus direct access to the vineyards and winemakers they're supporting.
The app, which is free to download, also offers non-Naked customers a free £40 wine voucher to give the retailer a try when they download the app and register their details.
Since the app went live at the end of last week, Naked Wines have had 7000 downloads and have seen a 109% increase in the number of customers interacting with winemakers and recommending friends.
And 24 hours after launch, it overtook Amazon, Groupon, Asos and AutoTrader to become the third most downloaded Lifestyle App in the UK (behind Gumtree and Ebay).
Naked Wines Founder Rowan Gormley explains:
"Rather than simply create a mobile version of our site, we wanted to put our winemakers in the palm of our customers' hands, supported with handy tasting notes and fun video content, to help bring their wines to life as they're drinking them.
Unlike any other wine app we've come across, customers can chat to the winemakers directly, see exactly where their wines have been made, and buddy up with friends and share deals and recommendations.
Customers can also do all the usual stuff like rate, review and place an order, but the app's key purpose is to bring our proposition to life and encourage and empower customers and winemakers to interact directly, in real-time, from the vineyard to the sofa.
The wines we sell wouldn't exist without customer investment and the app makes this relationship all the more real and all the more fun."
Naked Wines are also running a prize-draw to win a year's free supply of wine, for all downloads made before the end of April.
To find out more about the app visit http://www.nakedwines.com/iPhone or email app(at)nakedwines(dot)com
Android and iPad versions are due to follow in the summer.