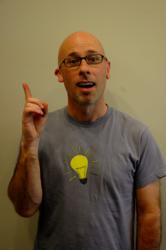 Vienna, VA. (PRWEB) April 23, 2012
What:
A Great Idea! is a performance developed by acclaimed musical innovator Robbie Schaefer, guitarist for renowned pop-rock group Eddie from Ohio and performer for both adults and children. A Great Idea! is designed to celebrate the joy of creation and invention through the power of one's own imagination, featuring original songs with melodies and rhythms that promote the essential disciplines of math and scientific thought to early childhood learners. Schaefer's A Great Idea! reminds children to trust their own innovative instincts.
When:
Thursday, April 26, 2012
10:00 - 11:30 am
Where:
Wolf Trap Foundation for the Performing Arts
Center for Education at Wolf Trap
1645 Trap Road
Vienna, VA 22182
Why:
This performance is an extension of Wolf Trap's Institute for Early Learning Through the Arts, giving children an opportunity to experience live performance. Wolf Trap Institute programs help enrich and motivate teacher's professional development and engage young children in active, creative learning experiences. This renowned national and international program integrates the performing arts disciplines of drama, music and movement into classroom curriculum, frequently in low-income communities providing resources for children who may otherwise not have access to them. Schaefer, whose life has been intertwined with Wolf Trap since childhood, was the clear choice for this important commission. He boasts lifelong experience as a children's performer and has a talent for creating stories and music that both engage children and support learning of important concepts.
We hope you can join us for this special occasion! Additional materials will be forthcoming after the event to help supplement your needs for a story.
Three audio samples from performance hosted via Wolf Trap's SoundCloud page- http://soundcloud.com/wolf_trap
###