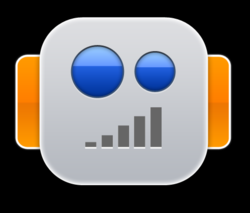 "Only in America"
New York, New York (PRWEB) April 24, 2012
All the other apps throw in the towel today as appsbar.com has recognized "Don King" as the appsbar App of the Day - a clear decision winner.
Digi doesn't have any hair, but if he did, he would style it just like Don King – who since appsbar launched in 2011, still has one of Digi's favorite appsbar apps. With all sorts of features including letting fans take a picture with Don King, scroll through his illustrious ring history, tools to communicate with the boxing icon socially, and follow his current fighters and champions, it was one of the first appsbar apps, and still one of the best.
To sum it up, Digi says it's a knockout. It can be downloaded for free to follow King's career in pictures and videos, from the inspiration for the Rocky Movies, to the historical bouts: Muhammad Ali versus Chuck Webner, Ali versus George Foreman in The Rumble in the Jungle, and Ali versus Joe Frazier III in "The Thrilla in Manilla."
With this app, anyone can learn how King's fight promotions span generations of fighters from Ali to Leon Spinks II in the 1970's, to Mike Tyson vs Michael Spinks, in the 1980's, and Cory Spinks fighting for a fifth World Title in 2012. But it's not all about fights. There's how King promoted the Jackson's Victory Tour starring the king of pop, Michael Jackson.
Where the app can be downloaded for free:
https://play.google.com/store/apps/details?id=com.appsbar.AppID18323&feature=search_result#?t=W251bGwsMSwxLDEsImNvbS5hcHBzYmFyLkFwcElEMTgzMjMiXQ..
Why Digi likes it:
The app provides fans of all ages with the opportunity to get to know the world famous boxing promoter, known for his hairstyle and flamboyant personality. The app provides users with a free-to-download, inside look into Don King's personal and professional life, with features that include

in-depth biography of Don King
never before seen videos from Don King Productions
Don King's most memorable photos from over the years
ability to shake a phone and hear one of Don King's most notorious quotes
Learn more about Don King's current roster of champion fighters
The Don King iPhone App and Don King Android app are both of championship quality but the Don King HTML5 App that runs on Android, iPhone, Windows Phone, Blackberry, Facebook and websites is an undisputed champ. By using appsbar, Don King made sure he can connect with his fans anytime anywhere. Made with appsbar, this app is free to download.
How anyone can make an app:
Simply join the community with an email address and get started on an app. Digi, our loveable robot app coach, is there to help at each step.
About appsbar:
http://www.appsbar.com was launched in 2011 to fill the gap between over-simplified apps and costly, professionally-produced apps. appsbar.com apps each average 500 to 1,000 downloads within the first day of being published. In 2012, appsbar became the leading developer of Android apps with more than 10,000 published. appsbar was developed by Appsbar Inc., a company founded by Scott Hirsch. appsbar has grown to a community of everyday app developers and opened the way for businesses and people to engage with friends and brands online through the development of customizable digital tools. For company contact information and partnership opportunities, visit http://www.appsbar.com
For More information:
Joe McGurk
PR(at)appsbar(dot)com